It's

Frugal Friday (how to live fabulously cheap abroad): keeping entertained!

Whether your on the road or staying in Bangkok here are some ideas to keep yourself mildly enthralled without spending a lot. Lately my method has been the free stuff and working more hours a week than I like to think about. Pouring my self into work is starting to feel alot like a little kid hitting me with a toy, incessant and a bit of putting. Gotta cut shit out and get back to basics.
1. Download movies for free or buy cheap copies on the street. I know its illegal but in Thailand copyright laws are a little fuzzy and you can find them easily online or walking around the city. With a great selection and new releases in pretty good quality its hard not to fall victim to a movie stand. Usually the more you buy, the cheaper the price is so if your not feeling like leaving your house to go to a movie theater on Wednesday (see #3) stock up while you can! DISCLAIMER: I do not condone or participate in illegal activities, none, ever. Yup, I'm straight edge.
2. Book Exchange at guesthouses. When traveling, one of the first things I check out at the guesthouse I am staying is the book section, they usually have them tucked away in a corner somewhere but I can sniff it out quick.
3. Spend the evening in
Santi Chai Prakan Pavilion and Public Park. It has a great view of the river and beautiful Rama 8 bridge, is close (but not too close) to Khao San and is a popular chill spot for Thais and foreigners alike (though it is a bit of a hipster scene.) Bring a cheap bottle of wine (or a couple beers with some ice) and enjoy the night air relaxing in the park, its free!
4. Free entrance at the Bangkok Art and Culture Center. The building is at National Stadium BTS near MBK and entrance is free (except for some special exhibits) as long as you bring your passport. There are all kinds of things going on here, from music to performance art so check out their website for exhibition information!

Also f

ollow

@bangkok4free

on twitter for up to date free activities going on in the city!
5. Wednesday discount movie theater tickets. Every Wednesday at Major Cineplex tickets are offered for all movies at a discounted rate - only 100 baht for regular tickets (about 3 USD) - almost half price! Its a great way to break up a boring work week or enjoy some aircon during your hot and sweaty stay in Bangkok.
6. Be a Thai tourist for the day. If I am honest sometimes its hard for me to leave my apartment because anytime I leave I end up spending money. It could just be a taxi fare or some snacks from the local 7/11 but its money I immediatly no longer have and that bothers me. But sometimes you really just need to get out! Check out the cheap island of Koh Kret where it costs 2 baht to cross the river on a boat and things on the island are not inflated for tourists like most places in Thailand. Seriously, its a pretty cheap (even if you shop as I did!) way to keep yourself busy on the weekend!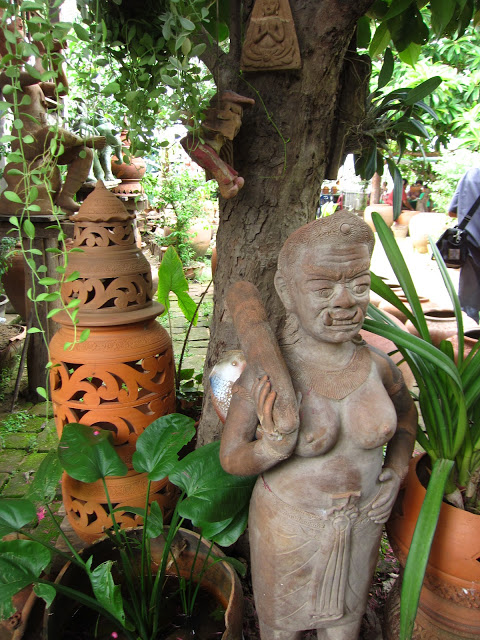 Having fun watching my bank account grow and finding new things to do that don't involve getting wasted every weekend or spending more than my allocated budget. I have been doing well (except for the incident at Villa Market involving Ben and Jerrys) and enjoying getting to know myself and my city! Hope you can enjoy some of these cheap option in Bangkok as well!
{This weekend I am down in the small town of Lae Mae Phim visiting friends and enjoying some sun and beach time! I am so excited, it has been far too long since I have been and it is one of my favorite places in Thailand. Also a good way to live well on a small budget, make friends with people who live by the beach!}