Myanmar (aka Burma) was a mysterious sounding country that recently opened its borders to independent travelers and just like every other backpacker coming through SE Asia at the moment, I decided I had to see what it was all about before the inevitable killer that is tourism turns it into something totally different (ahem, Thailand.)
I'll be honest, I didn't plan anything ahead of time for this trip. Literally, I booked one room the night we arrived and that was the extent of my planning. In hindsight this was a silly idea since I knew it would be the water festival and things would be busy and or not running normally and it was quite frustrating while we were there to have the constant "NO, its water festival!" bu excuse but now that it is all over, I wouldn't change a thing. We had an amazing week I will never forget even though things didn't go perfectly, one of the best and most annoying parts of travel. I hate making plans only to change them last minute and love seeing where things take you in a new place and I will always remember this experience when I am going plan crazy in the future.
We flew to Yangon from Bangkok, a short 45 minute trip on Air Asia (more amazingly cheap tickets, paid for at my convenience at my neighborhood 7/11.) Make sure to get your visa before going, because as of April 2014 they do not issue tourist visas on arrival in Myanmar for most nationalities (there was a counter labeled for them at the Yangon airport though so check for your circumstances) I did do all this research and planning so it must count for something huh? I at least got there in an orderly fashion, a great improvement from my earlier traveling days (wait, I need a visa to enter Thailand?!)
Yangon is an interesting city, very multicultural and beginning to embrace the more modern lifestyle wholeheartedly. We went specifically to enjoy the water festival and Myanmar new year celebrations but got to see many of the popular spots as we walked around getting drenched by the locals, it was a nice way to keep cool in the scorching sun! There are many Indian and Burmese restaurants and bars around though the food was very oily but delicious, yet not good for people trying to eat a healthy diet. It is a vibrant, diverse city and big changes are happening there. Head out of the city though and it is a different world altogether.
A few interesting things to know before you go...
Red betel nut spit is everywhere, watch out!
Almost everyone wears a 'longyi' a skirt like piece of fabric, both men and women wear. I would not advise women to wear shorts but I did (it was SO hot!) and then just covered up in my own new fashion accessory. There are some beautiful ones in the Scott Market and it is my favorite souvenir by far, I'll be rocking my longyi everywhere!
The people there make a 'kissing noise' to get someones attention at restaurant or bar, its pretty confusing at first (no they are not cat calling you!) and then it is awesome. Make the noise with your lips and you will get served right away!
This place is changing fast! We didn't notice too many foreigners (maybe just because we are so used to them in Bangkok, it paled in comparison) but many local people we talked to said the tourism was booming lately and more and more travelers were making a stop in Myanmar while in SE Asia. Go before it becomes just another tourist trap on the map.
We had some problems exchanging USD that were not perfectly crisp, though I read elsewhere this was no longer a problem. Just try to get the newest bills you can and know that no one except hotels will really accept USD, so some kyats are also useful to have. There are money changers all over the city (though many are closed during water festival so think ahead!)
Hotels are just very expensive, everywhere. We stayed at a nice guesthouse with private rooms and shared bathrooms for 25 USD a night (which is expensive for what it is, in Asia.) It was nice enough and the staff was wonderful, but you cannot compare what you would get in Thailand for that price, it will make you crazy. This could change as tourism picks up in the area and remember prices are higher and reservations are needed during the water festival.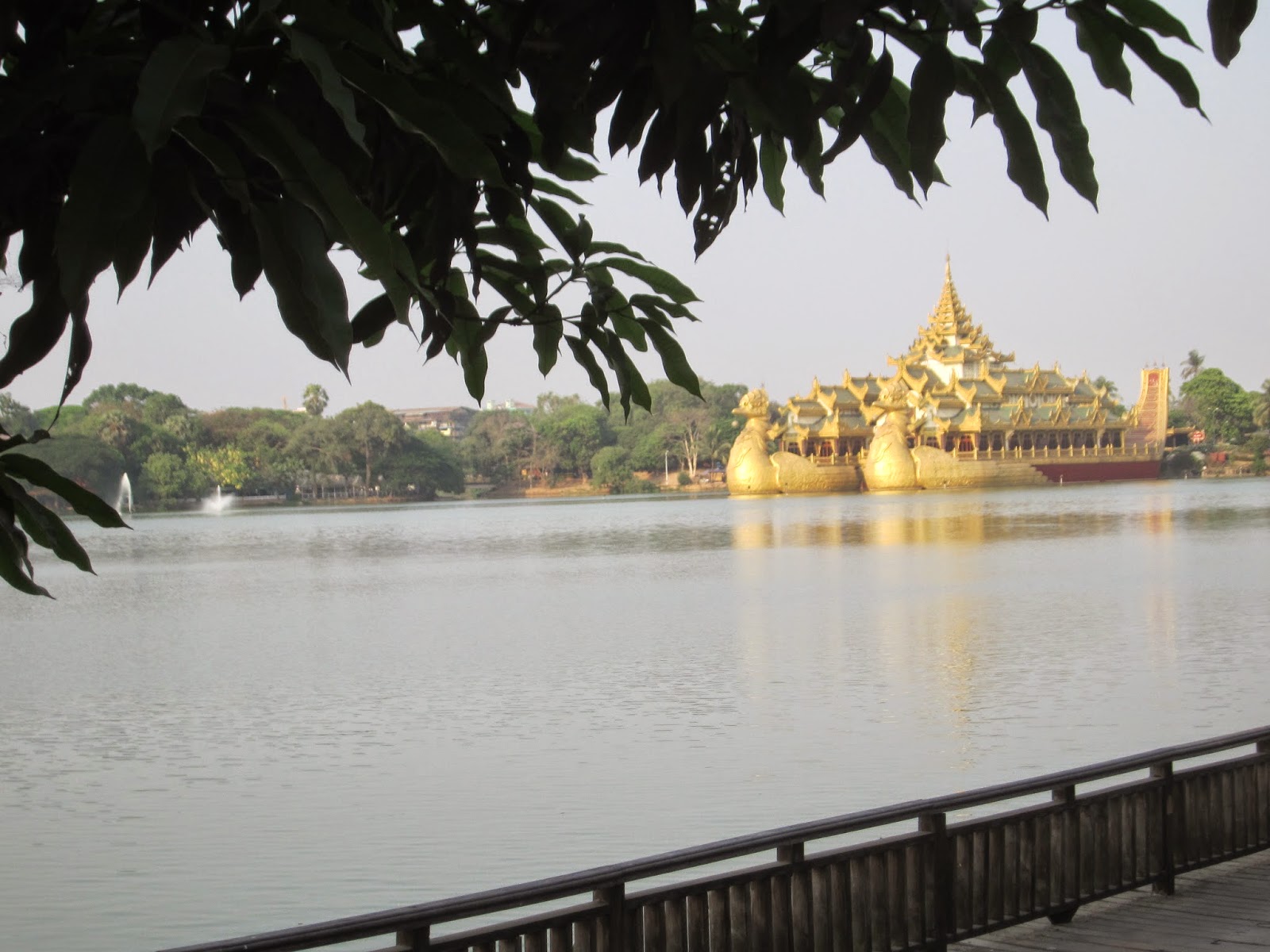 Sule Pagoda in Yangon, Myanmar
With the best view in the whole resort!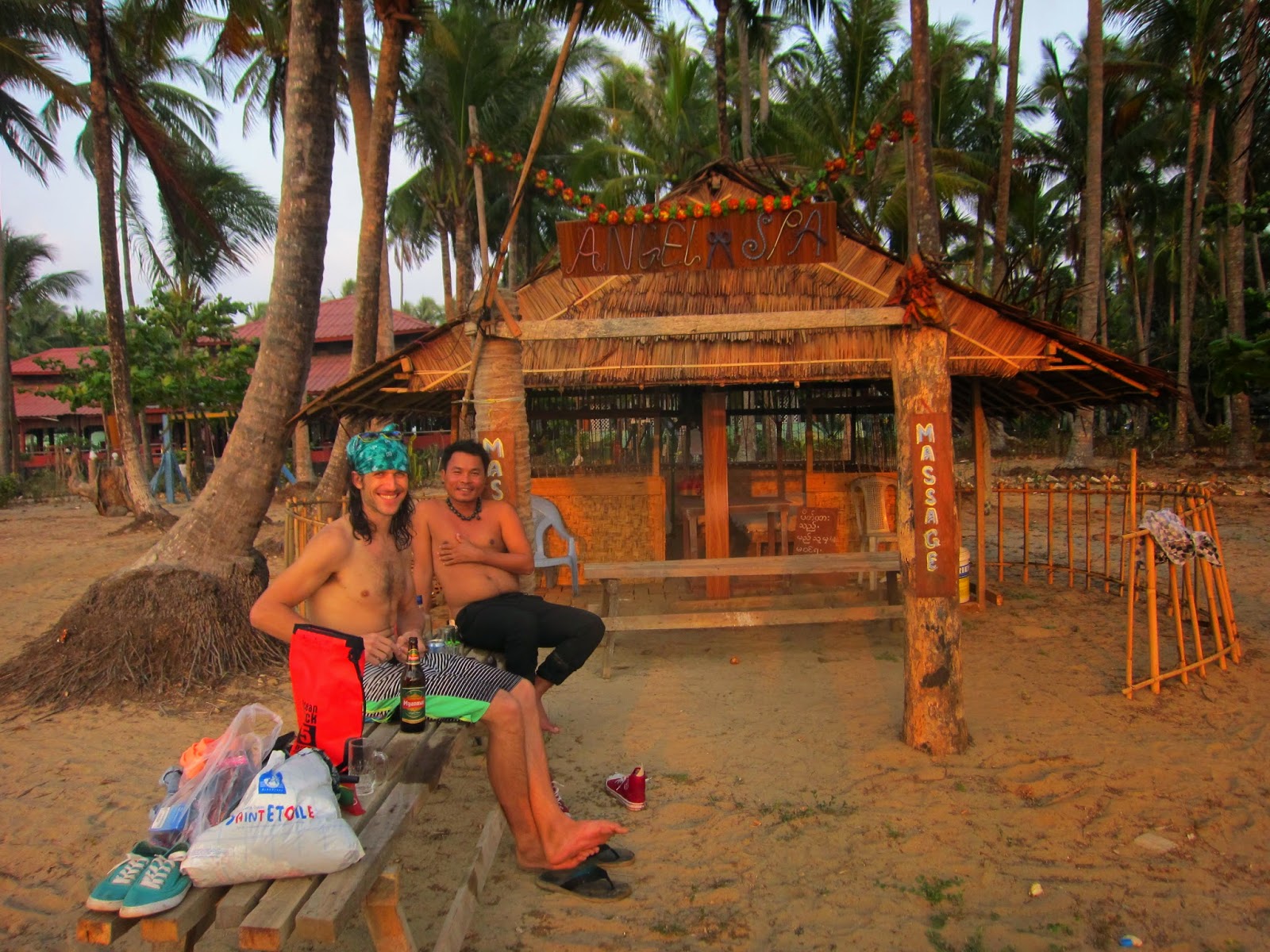 To sum up, a few takeaways I learned while traveling in Myanmar, the golden land.
-
Book ahead during water festival (sometime in April, check before you go!) every time,
or you stand the chance of being homeless.
- Bring and wear conservative clothing for top and bottom. It sucks because it is so hot but you will feel more comfortable around the people there.
- Don't just go where everyone else is going, it is a big country and more and more undiscovered gems are popping up!
- Take a bike rickshaw, one of the most authentic experiences I have had in Asia (though I gave him a bit extra for working his butt off pushing two big foreigners around!)
- If possible, plan to spend more than a week there.
- Say hello to everyone! People are very friendly and a smile and hello can make someones day!
- Go with the flow. You might end up without a room for a night or might not be able to find that good restaurant your hunting for. It will all work out in the end and might even be better than you planned!
The best part about living in Bangkok is the easy access to amazing destinations at a great value and with a short journey, only 45 minutes to Yangon. A week is no where long enough to explore anywhere but when the free one comes I try to do the best I can to squeeze in some amazing travels! Next long (a whole month!) holiday is in August, where to next....