April is the hottest month in Thailand (averaging 35 degrees C) and I am almost melting away at this point. Our school celebrated another random Buddhist holiday on a Friday so some teachers from my school booked a couple rooms in the close beach town, Pattaya to sit by the ocean, relax in the pool and get away from it all.
Now, this city is not one that many young tourists are eager to go see nor is it world renown for its striking, deserted beaches yet it IS known for something, just a bit different. It was the most convenient place for us to go on our short 3 day weekend and I thought it might be a fun place to experience. You see, Pattaya is a cliche that really lives up to its reputation, but was surprising as well. The city is quite literally packed with only OWM (old white men, usually rich), YTG (Young Thai girls) and RRT's (rude Russian Tourists), everywhere you looked (hopefully never looking when one of them is wearing a speedo). And then there was us. And a few families (who would bring their children to this place I don't know) who all seemed to know each other. I am really not exaggerating but I will admit I need to open up my heart and mind to those people more, rather than judge their life choices, I am certainly in no position.
To get around in Pattaya, the song-taew is a great, cheap option. You tell them where you need to go and for usually around 20 baht a person you'll get there. We stayed at a great little resort not too far from all the action (but far enough) called
Riviera Pattaya Resort
. It was a small, clean and atmospheric little place for about 1000 baht a night, with a pool and bar (open 24 hours) and really nice staff. All our friends stayed there and it was a really great place to play cards at night, drink cold beer, lounge in the pool and melt into the comfy soft beds.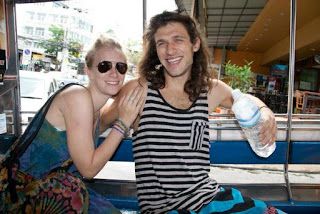 Songthaew (

สองแถว) ride
When we felt the urge, we walked to the main street, jumped into a songtheaw and headed to Walking street, a place you really have to see to understand. Think Vegas...but smaller with less gambling and more open prostitution. Walking street can be a really fun place to go out with your friends, dancing, drinking, eating yummy street foods until all hours of the morning, but I can imagine for some people (women in particular) it is not just an enjoyable night on the town...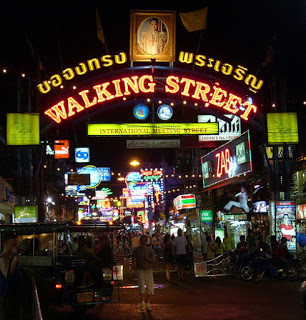 Don't forget to wai the King before you enter..
This country is such a contradiction at times. Thailand is well known for its sex industry, we don't talk about it, but everyone knows it. Yet I also see young women who are taught to be proper and polite, taking care of their family, never putting thier head above anothers and always saving face. These can be two different groups of women, but a lot of the time, they are one in the same. Like I said, I am not one to presume anything about these women, I have not lived their lives, we all have to do what we have to do to stay alive. The influence of the culture and the profession have a unique impact on each other that is truly engrained and accepted, it is something I will never be able to sincerely understand. It will hit you in the face in Pattaya, so unless you are ready for that, might try to head to a different island, like
Koh Samet
!
Since we were looking for some beauty that was not for sale on our vacation (oh sorry, that was cheap-hehe), we took a day trip to beautiful Koh Larn (about 30 minutes on a ferry -30baht- from the main pier in Pattaya) where we wandered the island by yet more songtheaws and found a beach to relax at. We didn't have a lot of time on the island since the last boat back to the main land left at 6 pm but Koh Larn is definitely a island I would like to go back and explore more, it was a quaint place and there were many hidden gems to be discovered. Still a lot of those RRT and OWM but hey, what can you do?
~3 hours from my home.


I'll be honest, if you don't have to go to Pattaya when you travel through Thailand, don't. There are many, many other beautiful places to visit in Thailand, so unless your looking for a young Thai girlfriend or you live in Bangkok and need to get out of the bat ass crazy city to just get your wits about you and swim in a warm blue ocean, just stay on the bus and head south.
Oh ya, and watch out for dirty holes into the Pattaya underground when you take a step, it is not a fun thing to fall into in the middle of your hot, sweaty day. Trust me.