My two friends from back home recently took a 3 weeks vacation to come chill out in Thailand with me and I got to play tour guide while enjoying some much needed chill on the beach time with my best girls! I have lived in Thailand for almost 2 years now (geez!) and have traveled from north to south now, seeing what this country has to offer and I had a pretty good idea of the best way to use the time. On the beach. Plus, I
have a few favorites
that I was more than excited to show off. Thus;
the perfect 3 week (introductory) fall in love with Thailand beach vacation.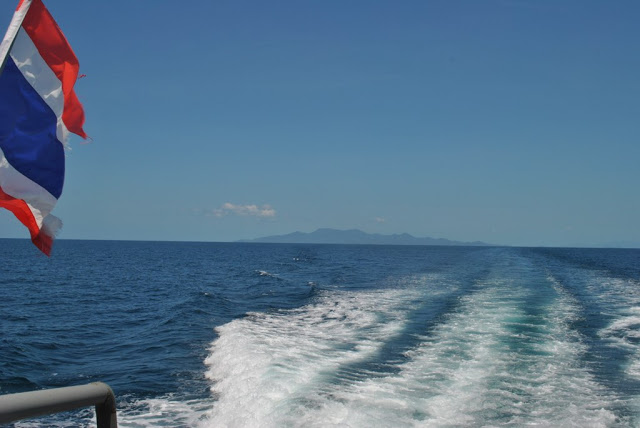 They had the same idea and after a quick few days in Bangkok we took the train down south but only after a night staying around the must see, but leave quickly, khao san road area. I recently met a new friend who happened to own a guesthouse in
Banglampoo
, in a cool little area and we found the purple house nestled across the khlong, mazing through the path of street food vendors.
Flapping Duck Guesthouse
was a very chill and comfortable place for our night in the area and after a night out drinking beers with ice it and sweating it all out, was the perfect distance to stumble home to recover for a long day of sightseeing and long night of traveling (and drinking more beer with ice.)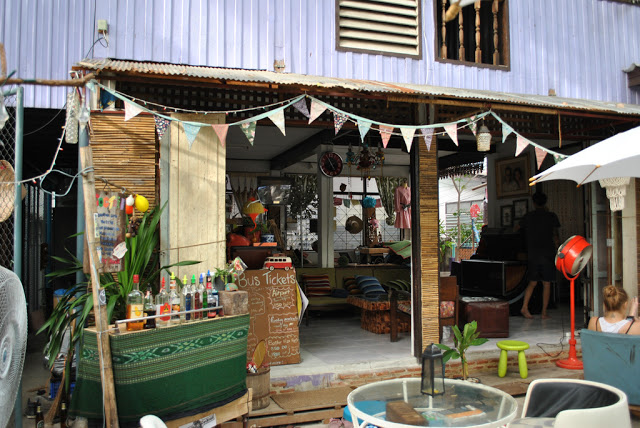 I had never been to
Wat Po
and thought it the perfect "one temple to see" while in Bangkok. I love temples as much as the next Asia lover but in my experience thus far, one or two in each country is usually enough. The wander around the grand palace, along the river to Wat Po is overwhelming but somehow calming and you find your not bothered too much about the sweat dripping down your stomach as you get lost in the senses rushing at you from every direction. This idyllic Thai temple did not disappoint with the breathtaking reclining Buddha and beautiful grounds. While it was hotter than I want to remember now, covered from head to toe (being polite tourists unlike so many others there, which was confounding) a nice cold coconut ice cream and massage before heading on a train down south was the perfect Thai fix.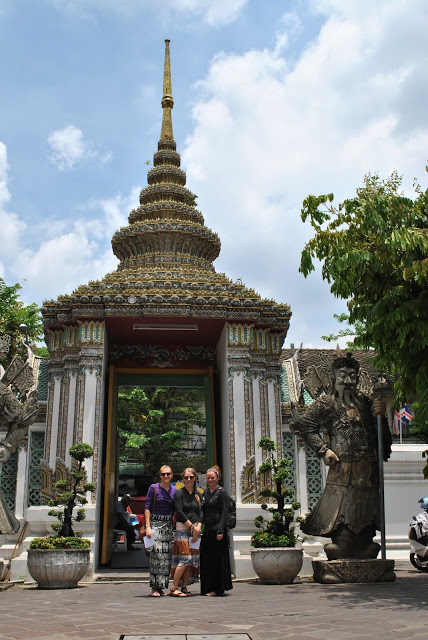 After a unexpected drunken night in the dining car on the train, we arrived in Surat Thani and got the first bus/anotherbus/boat ticket to
Koh Phangan
which wasn't until 1 in the afternoon of course. I had done a lot of research for the perfect, moderately priced, quiet but still stuff around location bungalow for 3, so not Haad Rin ( I can't imagine staying there during the full moon!) so on the northern part of the island and I finally found
Seaflower Bungalows
with great reviews on tripadvisor and a great low season price. When we arrived, all three of us squealed when we saw how close to the ocean we were and dreamily walked through the lush gardens with bungalows peaking through the treetops until they walked us up to through a hammock on the balcony. Our fan room was very comfortable for 3 and we easily passed a week slumbering on the beach beds, soaking in the warm ocean, enjoying cocktails at their Heaven bar, and letting go of the world beyond. We had to do the Full Moon thing of course and we had a great night meeting people from all over the world, drinking buckets and dancing like we were 21 again, ha. We got a classic picture with Thai policemen, covered ourselves in body paint and we even swam in the ocean at sunrise, full moon success!
It was kinda perfect on Koh Phangan.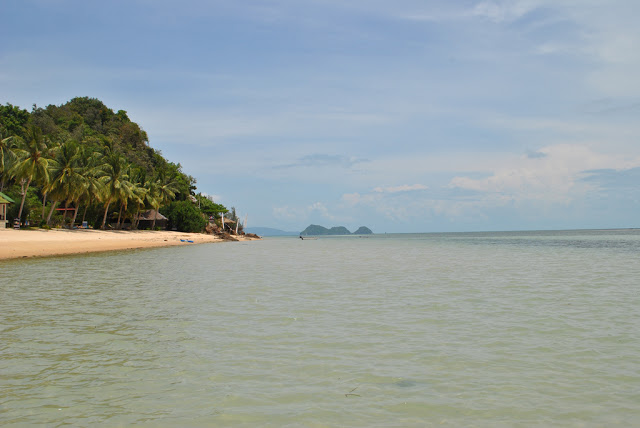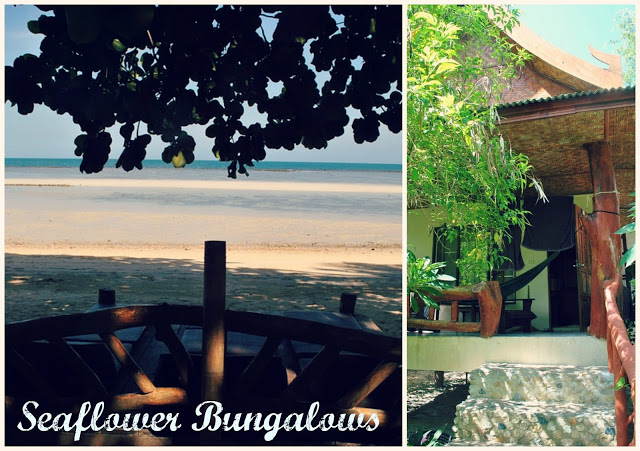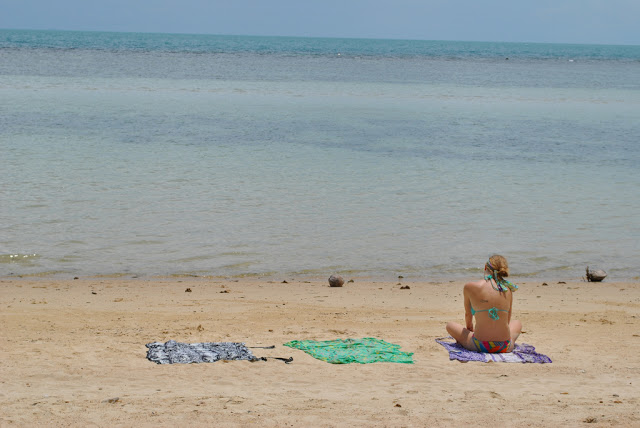 Koh Tao
was one of the only islands in the gulf of Thailand I hadn't been to yet and when we decided to extend our trip longer at the beach we had enough time to skip over for a few days. It is a small, stunning island with beautiful blue waters and huge jungle covered mountains. My friends tried the Discover Scuba course and enjoyed a day a diving around the infamous waters, while I opted to stay on land to search for a hidden spot. It is a pretty small island and honestly I didn't find that deserted paradise beach like I was hoping for but it was a thrilling and scenic drive nonetheless. Snorkeling and laying on the beach seemed the activity of choice of other non-scuba beach goers and at night the beaches light up with fire twirlers and thumping music. Its like an island version of Khao San better cause you can do
yoga in the jungle
and eat
yummy food for pretty cheap
. While I felt weird being a tourist in Thailand (lets face it, everywhere is full of toursits in Thailand, but well, Koh Tao is way up there, even the most of the people that work there are not Thai!) fitting in on the island of full of foreigners was kinda nice for a while.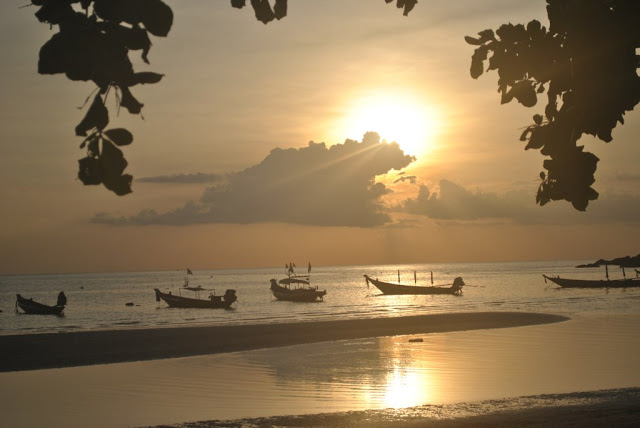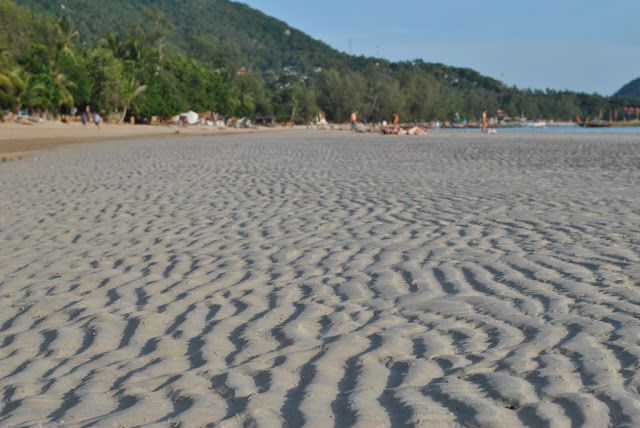 Koh Samui
was planned to help ease back into real life but not have to leave the beach quite yet. We were approached on the boat there by a kind older woman telling us about her guesthouse. It looked decent, was a good price and she offered us a free ride there if we paid for two nights. Risky, I know, but it ended up being a very cute place, with A-frames right on the beach and nice little restaurant in Lamai. New Huts was a very good value at 600 baht for a 3 bed bungalow but unfortunately as we walked into our room for an early nights sleep, we were greeted by two lively cockroaches on one of the beds; it was a restless night. Needless to say, the next day we splurged for a fancy bungalow to nurse ourselves back to physical and mental health, and get ready to head back into reality. There is something to be said for a comfy bed, hot water and aircon and the beach right outside your door, I don't care who you are!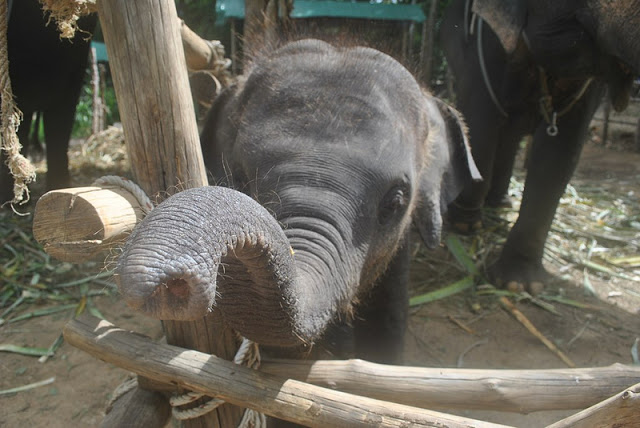 After driving around Samui and climbing to waterfalls and feeding way too many overpriced bananas to elephants (there were these baby elephants, see!? Baby elephants!) it was time to make the long journey back to Bangkok, and my friends then had a even longer journey back to the US! Bus to bigger bus, to boat, back to another bus, and then one last switch to a natural air tin box on 4 wheels which dropped us off at the Surat Thani airport, as promised. We booked tickets on
AirAsia
and the up and down flight back to the big city was well worth the few extra bahts we shelled out to skip the 14 hour bus ride.
I think my friends enjoyed their time here in the Kingdom of Thailand and while 3 weeks is in no way long enough to explore everything there is to see, even just in Thailand, I think what we did do together was enough inspiration for more world travel together one day soon! I am so glad my friends understand
my love of 7/11
now and it was really fun to travel with my girls around this country that I so love to hate and hate to love, Thailand you are a dirty whore and you know how to show people a good damn time, most of the time.
(for these and more photos from our trip my lovely friend, Courtney Funk flicker)
Follow me on instagram and twitter for up to date rants, pretty photos with old filters on them and general nonsense.