There is no greater sight when your hungry and kinda broke (and quite possibly a little drunk) than the orange and green neon from the brightly lit store you can find one or more of within walking distance, which pretty much has everything you could ever need to survive. They are literally everywhere (probably more of them than pictures of the King!) and are open 24 hours. You really can live off of only 7 eleven in Thailand as it is cheap, they have all kinds of ready made food, microwaves to cook it in and ice cold air con to enjoy during your shopping trip. Being homeless and living on a budget we have spent many hours and eaten many meals at various 7 eleven's around the country (my favorite one so far was in Haad Rin, Koh Phangan - they had popcorn, a toastie assembly line and cute soi puppies outside!) and I thought I should showcase some of the finer points of this fundamental establishment. Going to 7 eleven back in the states was quite rare, I remember them being a bit run down and shady and they didn't really have many things (all about the QT in AZ). Not the case here, they even have Coke slushy machines! You can pay your electricity bill, fill your phone credit up, buy a bottle of cheap Thai Whiskey, get a liter of milk, pick up a cheap copy of the latest blockbuster, make a warm cheesy sandwich and break your 1000 baht bill all in the same trip. Now that is what I call a
convenient
store!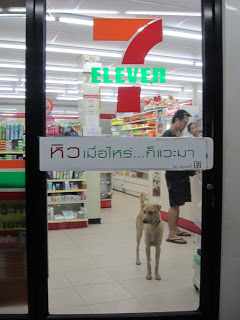 Even soi dogs love it here!
Classy lunch of Mama noodles - The best instant noodles I have ever eaten! My favorite flavor? Creamy Pork Tom Yummmmmmmmm :)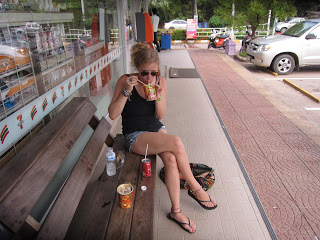 Mama noodles with tomatoes and cucumbers - 12 baht (~ 45cents)
Coke with a straw - 15 baht (~50 cents)
Under a dollar, delicious meal on a bench in front of 7 eleven - PRICELESS
So many Mama to choose from....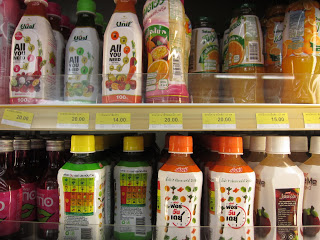 You can even get your nutritional needs met! All fruit juices for under a dollar..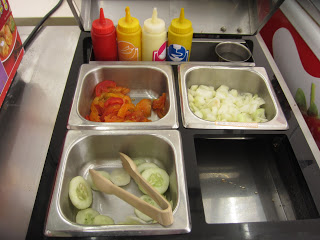 Free condiments for everyone!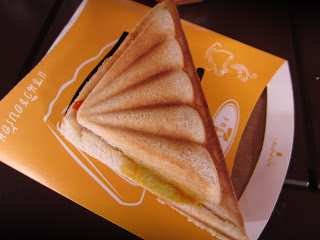 The infamous Toastie. The best thing since sliced bread. (The trick is to put all the condiments and veggies on before you toast it... perfection!)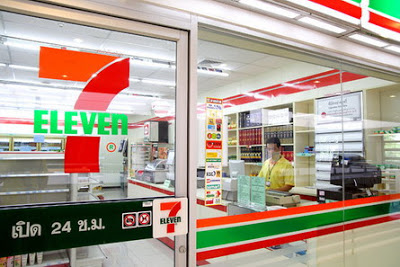 Plus the people that work there are the nicest and friendliest people ever!

One could eat pretty well at Thailand 7 Eleven's if they try, a well balanced diet with variety (or chips, candy and soda all day too), all at a comfortable one stop shop. Well done 7 Eleven, my hat is off to you, someone is doing something right. Much more than you can say about the government here (shit, can I say that?! I don't wanna go to prison.) This is one happy customer, who will be returning, again and again. Say, I don't think I have been to one yet today.. hmmmm what to get...