I have traveled to the
east coast of Thailand
several times now and while I love it there, I was excited to finally check out the east side of the skinny part of Thailand for my 26th birthday! I scored some amazing tickets from
Air Asia
back in February that were literally 35 USD round trip from Bangkok to Krabi in the southern part of Thailand. We took the airport shuttle to Ao Nang where we stayed the night as it was quite late, and woke up early the next day to catch the boat over to Railay. I booked a resort ahead of time for my birthday on the West side of Railay which has a nice stretch of sandy beach. You can easily walk to the other side of the peninsula to Railay West which has no beach, just mangroves but is a way cooler place to hang out. If I were to do it again, I would stay at one of the nicer places in the middle of the two, there were a lot of places to stay and where we stayed on the beach was nice but overpriced and full of families.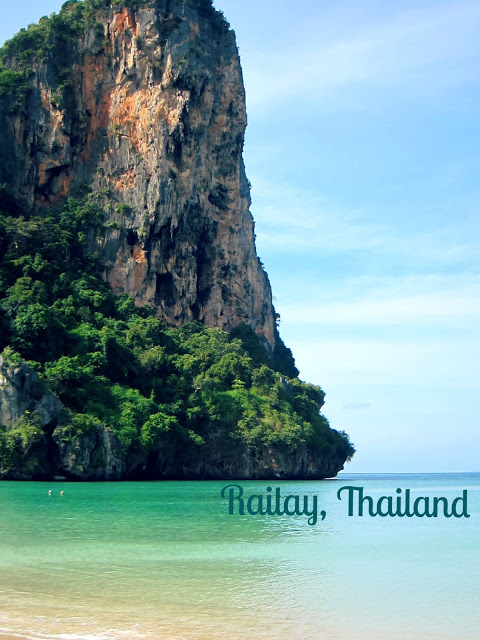 Railay has no cars but that doesn't mean it is less touristy than neighboring Ao Nang. There were tons of people each morning waiting to catch boats to other exotic places in the Andaman Sea. The night life is quiet but there are some great bars for chilling out on the east side, most are herb friendly. The area is known for its rock climbing and there are dozens of climbing shops to help experiences climbers. It is a very cool area and the 2 days we spent there was in no way long enough to see everything, I can't wait to go back!
Railay West
You can rent a kayak on the beach for about 200 baht an hour and take it out to explore all the beautiful rock formations. We had a lovely afternoon of paddling and finding hidden caves and beaches!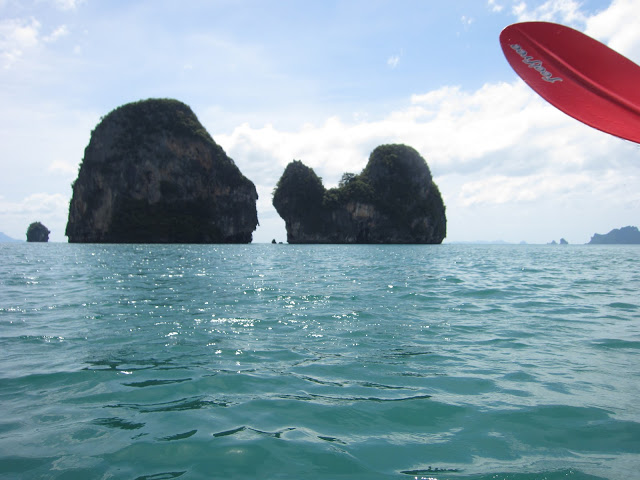 You can't miss
Utopia
on your stroll from walking street on west to the east, its a chill spot in the jungle with a big family of monkeys living in the surrounding trees. It is owned by a young, very friendly foreigner couple who have been there since the beginning of 2012 and are still renovating. They have a fresh and interesting style and you can see their vision already with cool artwork on the wall and movies playing every night. They have yummy Indian food and you can sign up there for morning and evening yoga classes run by a nice Indian guy for 300 baht an hour. We enjoyed the 8 am yoga class right on the beach (he has mats and everything for you to borrow) and ran right into the ocean afterwards!
If your heading to Krabi on your Thai holiday, honestly I would skip over Krabi and Ao Nang as quick as you can (or all together) if your looking for the perfect beach to just lay back and relax. Railay is perfect for kicking back, eating some awesome Thai and Indian food, exploring the limestone during low tide and waking up your adventurous side (even though I personally opted for a massage and yoga over climbing.) My brother met up with us on the morning before we fly back to Bangkok and he is still there, two weeks later. It is easy to get stuck at these kinds of spots, and I am envious he has gotten to explore much more! Check out Railay, I bet you won't be able to leave either!