With our home still seized with floodwaters, we have been exploring the islands and beaches in Thailand like its our job and since I don't really have a job right now it kind of is. After a long
bus ride
down south, we arrived by boat to Koh Samui, one of three islands in the gulf of Thailand, off the east coast of the peninsula.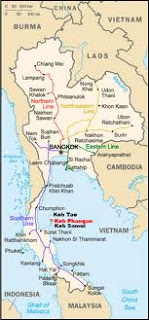 After spending a couple weeks there, killing time, it was confirmed I would not have school for several more weeks, so we caught a boat near Big Buddha, over to Koh Phangan, home of the Full Moon Party to celebrate my 25th birthday! We did not stay in Haad Rin, the beach where the party is held, because I enjoy sleep too much, so we found a nice resort on
latestays.com
at Haad Son beach and drove our rented motorbike all over the small island. Phangan is like no other place I have ever been, the roads are absolutely mind boggling, the mountainous landscape creating wave-like pavement that makes your stomach lurch as you fly up and down them. The atmosphere there is party-party-party and they hold a different celebration for the full moon, 2 half moon parties, and a black moon, all just another excuse to get wasted and wear body paint.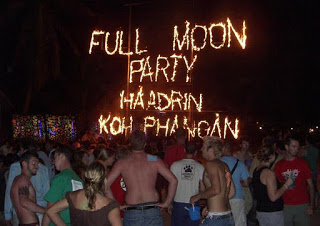 Heading to Haad Rin for the party, I was jumping with excitement in my neon green tank top, not sure what to expect, but knowing it was going to be crazy. The party was a sight to see, a party all night on the beach like no where else in the world; but in all honesty, it was mostly young foreigners getting wasted, having sex with random people in the ocean (seriously, who has sex on rocks in front of a packed bar... have some respect for yourselves ladies!), peeing in the ocean, dancing like fools to some (there was
some
good music) shitty techno music. Not that I didn't have an awesome time, but I think it might have been different if I were 18 and wasn't jaded against tourists. Maybe, at the ripe age of 25, I am somehow
too old for this shit
.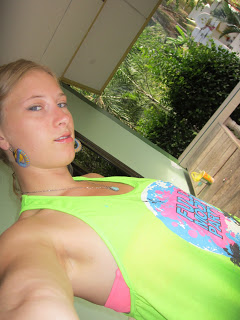 the only picture I took that night because I didn't want to lose my camera...
you see I also jumped on the neon bandwagon...
We were told by good friends, when you get to the party, go left and when you get to the end of the beach head up the stairs to Mellow Mountain, you'll like it there. Boy, were they right. "Mushroom Mountain" as it is also called was my kinda place for the full moon party. Still crazy and bizarre but a little more chilled out feel, where you could sit overlooking the whole party watching the bodies pulsate and glitter in the strobe lights and fire. Head over the the bar in the corner, lit with a single bulb, a large sign reading only
SHAKES
and your in for a long night. Literally everything you could want is for sale on this little island, like a tropical Las Vegas, but much cheaper!
So the full moon party, my birthday and also the Buddhist holiday
Loi Krathong
fell on the same day this year, and we tried to appease the water goddess (please let us go home soon!!) by letting out our own Krathong into the ocean, right as night was rising into day... 11.11.11 won't be a day I will be forgetting any time soon.