After spending a week
living on an organic permaculture farm in Northern Thailand
, I went a little Eat, Pray Love and spent the next week at a yoga retreat in another area outside of the small town of Pai. It was a wonderful week learning more about yoga and myself as well as meeting some great new friends! Xhale yoga retreat was an easy choice when looking for a yoga retreat in Pai. There aren't many and on tripadvisor it is a top rated attraction in the area with only the best reviews, all singing the praises of Bhud, the energetic and mindful owner and teacher that makes this place so special. With a very reasonable price too, this is easily the best week I have spent in 3 years in Thailand, doing good things for my body, mind and soul!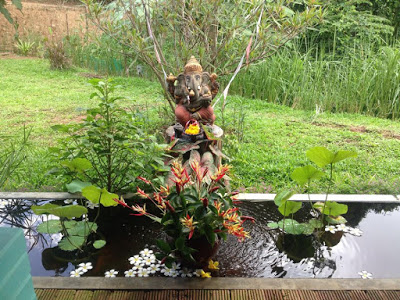 The retreat is 5 nights, 6 days of healthy vegan eating, 2 yoga classes per day, meditation and yoga theory classes as well as a different nightly activities like soaking in hot springs and energy chanting and dancing in the moonlight. The meals were all picture perfect and deliciously nutritious with Thai and international foods as well as fresh fruit and tea all day. Everything here was healing. The lovely bungalows are comfortable and welcoming after an exhausting day and I fell asleep every night with a smile on my face.
Bhud is an amazing teacher who is very passionate about what she does and has a wonderful positive and healing energy to her. Her smile is infectious and she really tries to get to know you, listens to your story and makes you feel loved and important. This retreat is great for people who have never tried yoga and many of the other participants really impressed me with their openness to learn and try new things. Bhud is really great at making everyone feel comfortable. It was also wonderful for people like me who have practiced yoga for many years and want to have a deeper understanding and grow in their yoga practice. She really inspired me to continue practicing and learning about this ancient art form. I even did a day of complete silence which was challenging, trans formative and relaxing all at once. Bhud encourages and guides you the whole time during this week of detox and life changing experiences.
I
highly
recommend anyone going to Pai to spend a week at Xhale Yoga Retreat with Bhud and her wonderful group. It was the perfect way to decompress, cleanse your body while getting closer to nature and yourself.