The best part about living in Thailand is that it's Thailand. I know that seems silly but who doesn't want to go travel around Thailand? Its tropical, cheap, has great food and is exotic, it has it all! Not only do I get to explore jungle islands and random undiscovered gems throughout the country, but my friends and family want to as well! My brother decided to buy a ticket to Thailand on a whim arrived a couple weeks ago. My mom and best friends from the US will be visiting next year and I just can't wait to show them around (I think Thailand is a much better place to visit than it is to live...) It is so nice to see a familiar face in this land of black hair and European backpackers and we had a great weekend catching up and fighting like the brother and sister that we are.
So my younger brother arrived and a Thai holiday gave me a long four day weekend, and this gave me the perfect opportunity to explore a new island (there are over 1,000
just in Thailand
to discover!) I decided on Koh Chang, or Island Elephant in English, which is a lesser known island but is actually the second largest in Thailand and is only about a 5 hour from Bangkok, near the border of Cambodia. While I may not have
enjoyed the journey
getting there, once we arrived, it was all worth it.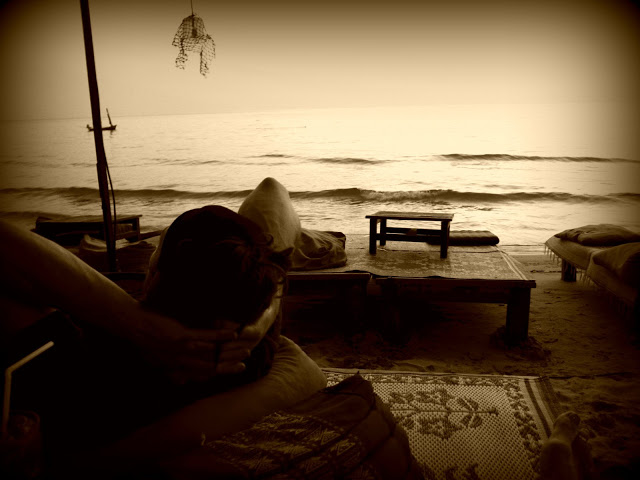 I think he likes it here...
We stayed in the small beach town of
Kai Bae
, a good central location in between White Sand Beach and Lonely Beach. After we checked into our cute room at
Paradise Bungalows
, we walked around the small town and got some great Thai food at one of the local restaurants. Getting to introduce newcomers to some typical Thai dishes is pretty fun and I got to eat a lot of delicious dishes and remember how good Thai food can be (after 2 years in Asia, I am kinda getting sick of rice...) Renting a motorbike is a necessity to me now while traveling and is always the first thing I do upon arrival at my desitnation. Koh Chang is the perfect place to rent a bike and just drive. The roads are good and the east side of the island is not very developed. While there are some small Thai villages, there are plenty of quiet beaches and forests to investigate and not many people around to disrupt the quiet.
When I awoke in the morning I was
surprised
to find the
view
from our bungalow was an elephant farm! There were about 10 elephants eating, drinking and dancing in stables close enough for me to smell. It was then that it clicked. I was on an island named after this illusive animal! Upon further research, the name comes from the shape of the island, which looks like the head of an elephant and there are four camps that take care of the creatures and offer tours to tourists. I was torn about going on one of these tourist traps but in the end I wanted to decide for myself how bad these elephant camps really were.
I booked a tour with Baan Kwan Chang because it had the best reputation on the island and was a good drive into the jungle. It was only 900 baht for a two hour tour which included a jungle trek and swimming with the elephants. While it wasn't quite what I expected and was just another day on the tourist trail for these elephants, it was a remarkable experience and something I won't ever forget! There is a lot of controversy surrounding these elephant
sanctuaries but from what I saw there, the animals had their
own space, were well fed and not in any danger as they might be if living in the wild (with some mean humans around.) If the world were a perfect place, it would of course be better for them to be free, but here they are safe and protected from people who might harm them in our far from perfect world.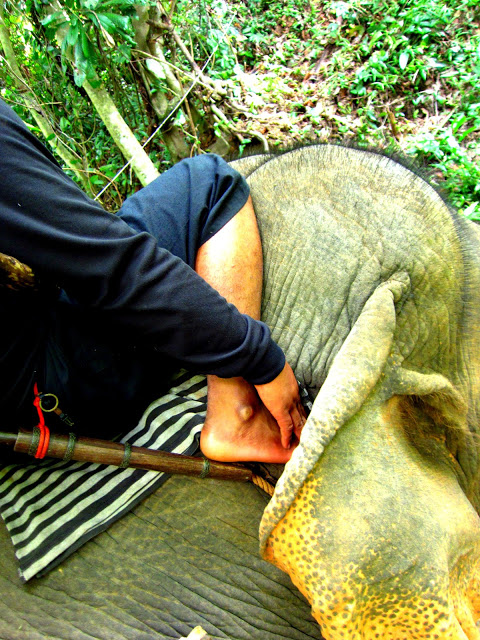 mahout.
Koh Chang is a great island to visit if you only have a short time in Thailand and it has just as much to offer as the more popular ones down south, with a more off the beaten track feel. I enjoyed my days hunting for the perfect beach, trekking through the jungle on elephants and watching the perfect sunset over a mouthwatering Thai meal, with two of my favorite guys in the world. It is the perfect island to lose yourself, if only for a few days, and find the adventure you have been missing!