I spent my long weekend (see post title) for yet another Thai holiday in the beach town of Hua Hin. It was nice enough but really just another mainland beach (I have become a beach bum snob these days.) There were tons of Thai families on holiday, lots of high rise condos and beaches full of umbrellas during the day and people swimming in the ocean when the sun went down (wouldn't want any sun to sneak past those long sleeve swimming clothes.)
There are literally hundreds of fancy hotels to pick from in this resort town and we wanted a relaxing and unique place to spend my last long weekend for a while. I booked our room through
Roomorama
which is a cool way to find accommodation in many cities around the world. You can find houses, apartments and (cute boutique rooms) for rent by private owners. I looked online for a while and found
Evergreen Boutique Hote
l to be just what we were looking for. Through Roomorama's
website
, I easily booked a room in this small resort. There were several options for condos as well but for our relaxing weekend, I wanted to be pampered with bacon and eggs by the pool, not cooking in a convenient kitchen. I am just not that kind of girl.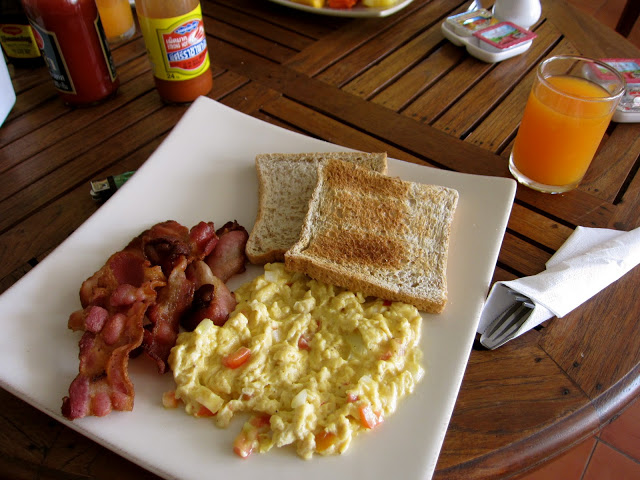 REAL BACON!!!
I had only traveled through Hua Hin on my way further south so I was excited to be heading somewhere new. This was probably one of my lazier weekends away (I am so exhausted from working so much, on the weekend I don't want to do
anything)
and I am trying to save as much money as possible so pretty much all we did was relax at the beach, by the pool and eat a lot. We had an amazing dinner right on the ocean with fresh shrimp, seabass and crab fried rice. Nothing better than "expensive" Thai food in Thailand (usually we eat 30 baht food from the street so going to a nice, sit down Thai restaurant is always a treat.) The beaches in town were really crowded with Thai families because of the holiday weekend, so we rented a motorbike and drove out of town and found our own private beach to enjoy. Also a great thing about Thailand, there is
always
other beaches.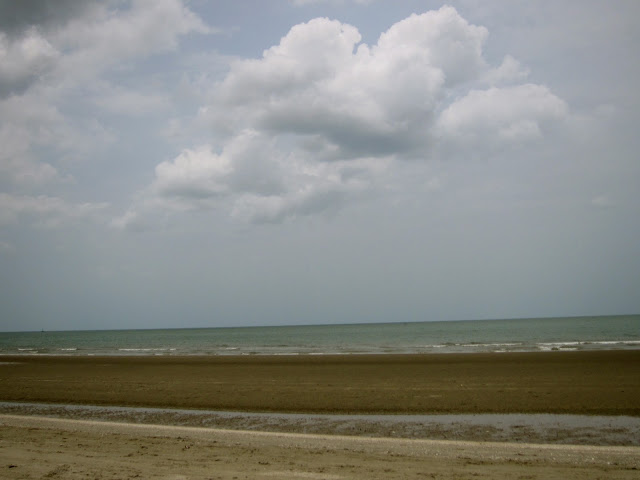 the weather lately has been 'mai sabai'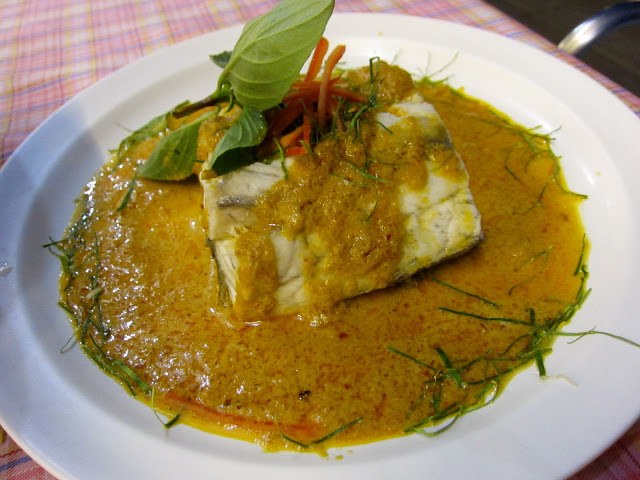 yummy fresh fish curry
Like I mentioned before, this was my first official trip, sponsored by a travel company, Roomorama (hence all the linkage) and I am pretty excited to share it. It was a no stress weekend, easy to book our hotel and easy to find, very beautiful and well priced. Just what this stressed out teacher needed. I have children yelling and running through my dreams (nightmares) now, that can't be healthy.