It's my fourth day at my new school, Little Dragon's International School and I am exhausted. It was a long day at the zoo yesterday, I have been teaching a class all week for a sick teacher and it is the most intensive training possible. I have been quite busy and therefore slacking on writing, about Thailand and about my travels, and I have a lot on my mind to share!
A few things I have noticed about Thailand thus far (I will share pictures and stories from our trip soon, I promise!)
- I am living in the suburbs of Bangkok, I had no idea there were rich spoiled suburban children here too. But boy is there. And I am their teacher.
- The King is EVERY.WHERE. It is kinda creepy staring at him on the freeway and in my classroom and at the grocery store. I hear he is a cool cat but living in a monarchy is weird. (and I could totally get shot for saying that so just in case - Long Live the King!)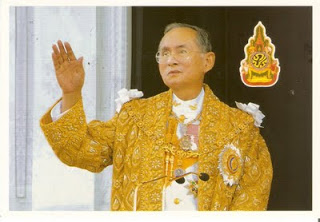 - The food here is
so
sweet. They literally put sugar in every dish. I am getting quite annoyed with sweet noodle soups in fact. I thought I was gonna love Thai food so much but so far, meh.
- They drive on the left side of the road here, and it is hard to get used to. Not only are they crazy drivers, but its all backwards so driving around makes me feel a little dizzy. But I am now a pro at riding on the back of motorbikes without holding on. I'm probably going to die here.
- It's hot. REALLY hot. and its the cool season. God (or the King?) save me when the "hot" season comes around. Now is monsoon season and it has it's own headaches. My skin is really suffering from all the sweating and dirty air, I am going to look like I am 40 when I move away from here.
- Khao San Road blows. I hope I never have to go there again (but I probably will). It's 100 times worse than Itaewon could even try to be (with annoying foreigners I mean) and that is saying something. There are no smiling Thai people there. Just ones that hate tourists for good reason. Ping ping anyone?
- I love
love
love
wai-ing. This is the traditional Thai greeting of putting your hands together near your face with a little bow. Watching people do it is like a moment that goes into slow motion and becomes about something greater than just saying hello, but about tradition and respect. It is a beautiful exchange that I have already grown to love. And seeing my little 4 year old students do it is one of the cutest things imaginable.
not my student but you get the idea..
I have mixed emotions about this country I have lived in for only a week. I think I even have a little bit of culture shock, something I didn't really experience too much in Korea, maybe because I was expecting it. I have a lot to learn about this culture and I know I will learn to love it. For now, I am not too thrilled about having to flush my toilet with a bucket of water or get a taxi everywhere I want to go. I am excited (and anxious) to find a house, get a motorbike (really, I probably going to die here so you should come visit while you still can) and get settled into my new life. I am growing everyday, nothing is easy and while I welcome change, that doesn't mean I am always in the best mood when the changes are happening...
Just taking life one day at a time and trying my best to keep a smile on my face. Wish me luck!