Well, after a hard decision to leave flooded Siem Reap (we could barely get out of our hotel, 200 tourists were evacuated from some temples by air during a flash flood so we thought it better to cut our losses and go back during the dry season to do Angkor Wat right) we traveled much earlier than planned to our new home, Thailand.
But the story doesn't really start there, nor end.
Sitting in our hotel in Siem Reap, watching the rain come down and the rapids grow in the river along the street in front we needed to get out so we decided to make the trek to higher ground, and not an easy one, about 100 meter long road/river took 30 minutes to walk against the fast current, bus tidal waves splashing brown water in our face as they charge by. Finally coming to the bridge, the only place in town not covered in water, we found the party. People and food vendors all congregated on the bridge talking, eating, laughing, jumping into the water and wrestling with friends, with no where else to go. That's when Eric decided he wanted to make a rope swing on a perfect tree jutting out over the river. As we walked through the few stalls at the market that were open to find rope, it was determined that some day drinking was in order on that blustery day. Well, five pitchers of frozen strawberry margaritas later, it was rope swing time. Eric was like a monkey in the tree and a big hit for the rest of the night. The whole thing is a bit blurry for both of us but I somehow snapped some shots and pictures always tell the story better than my drunken memory anyway.
Dedication.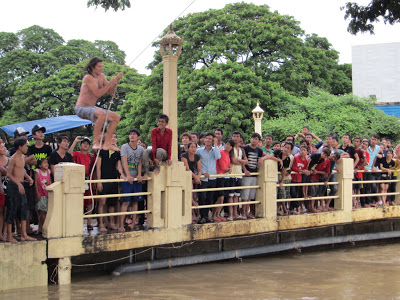 the white giant can draw a crowd!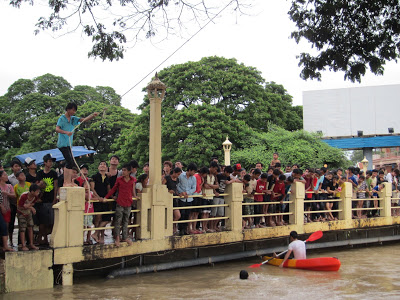 I don't think your boat is gonna make it dude...
WEEEEEEEE!!!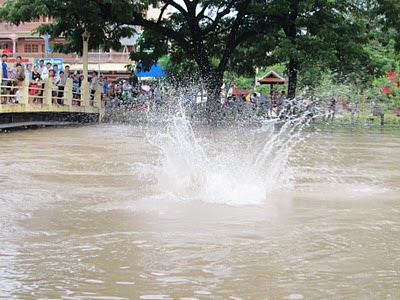 the rope swing made a "big splash" -harharhar
Long story short, we got drunk, built a rope swing, lost my favorite flip flops, we booked our tickets to Bangkok, threw up a some quesadilla, drank a coke and boarded a 10 hour bus, with a tequila hangover, huge backpack and a long day ahead. The border crossing wasn't the most relaxing I have encountered, to say the least, but with only a little bitching (okay Eric, maybe a little more than a little) we finally made it to Bangkok in the late evening. Dropped off at Khao San Road, I was excited and nervous to be in the city that I will now call home. Finding a cheap guesthouse with a balcony overlooking the street seemed like a great idea at the time, until 4 in the morning when the music was still bumping and I was still trying to recover. I think crying on my first night in the new city I am going to live in is now officially a tradition. While I don't think Khao San will be my regular hangout (traveling has really made me hate tourists, how ironic) I am excited to explore our new home, find a job (I have three interviews set up already!) pick out an apartment and get settled. Man, Korea spoiled me, now I have to do all this on my own.... deep breath... Here we gooooooooo!