Being a frugal traveler, I always try to take advantage of my travel plans to make the most of international travel and after
an amazing day in Shanghai
during a layover on my way to Vietnam, when I booked tickets to America and had the opportunity for a long layover in Beijing, I jumped at it. China is a unique country to travel in and tourist visas for Americans are very expensive, so these layovers are the perfect way to see some of the infamous sights on a budget!
Previously I had read you could not get a transit visa in Beijing, but the laws changed literally weeks before our planned layover and you are now able to easily leave the airport for 72 hours or less as long as you have proof of a ticket out of the country within the time period. After exiting the plane, to your left in immigration you will see a big sign for these transit stamps and will just go through those immigration lines, unless you arrive in the middle of the night like we did. We were quite confused how to do it but after asking the one of the two open immigration officers, we got the correct stamp and were out in the real Chinese world! At two AM in the middle of winter. It was not ideal. After a few cold hours in the luggage claim terminal trying not to go all the way out of the airport, we realized there was a nice warm terminal you can relax in just beyond customs. Don't make the same mistake.
Once the sun came up we left the airport and went to the Airport express line that connects to the cities subway system, and let me tell you, coming from Thailand, China in the winter is
quite
the shock. It was freezing! I mean like beyond cold, I practically turned around and went back into the warmth of the domestic departures terminal to continue my Chinese people watching. Instead I forged ahead and braved the cold to explore the ancient capital and make the most of my 20 hour layover.
The subway was pretty easy to figure out and we got off at the
tian'anmen east
stop to get to the square and there were tourists everywhere, even though it was about 2 degrees outside. Once into the square, it was well, as big open space with some monuments and tourists taking pictures. That's about all. It was still early and the whole city was covered in a thick layer of fog, or so we thought (a few days later we
learned that Beijing was off the charts for the pollution in the air
on the day we visited.) I am glad that I saw it, but it was so cold, we couldn't even imagine walking around the forbidden city without a coat (we live in Thailand, we were NOT prepared) and we went to find some dumplings and call it a day.
That was our day in Beijing, while definitely not my favorite city in the world, I love adding stamps and memories to my travel book, especially when it is basically free! I have gotten to see two Chinese cities without ever paying 250 dollars for a visa, quite resourceful if I do say so myself...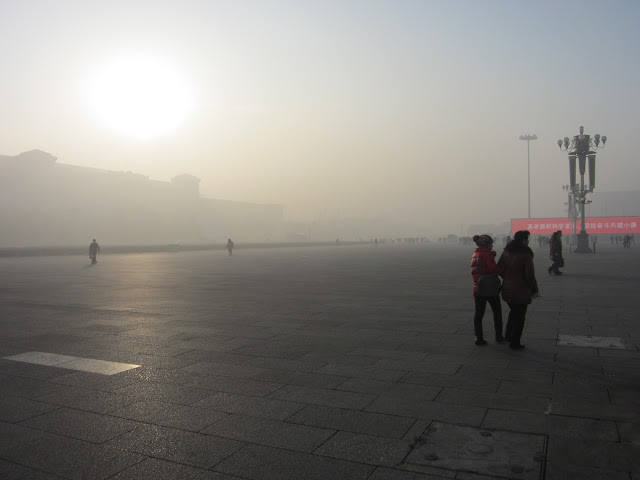 Beautiful, smoggy, dirty Tiananmen Square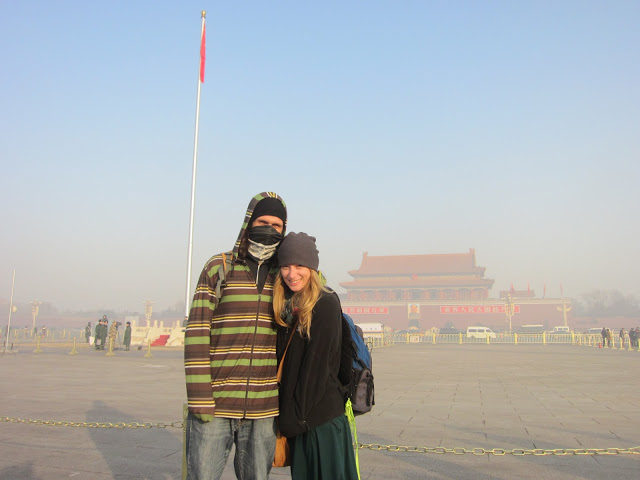 Look Ma! I'm freezing my ass off in Tiananmen square!