This is looking at you antique lovers and flea market junkies...I have found your Asian paradise! My friend lives near this temple and showed me around and I just had to take pictures and share it with the world! It is a great find and not far from Bangkok, totally worth the trip if you are into this kind of stuff, you can find some amazing treasures and get a pretty good deal. There are not usually many foreigners in this area so the Thai people thought I was very weird for taking pictures of everything but there are some real finds if your willing to sweat (it's just so bloody hot all the time) and dig around a little bit.
It is called
Wat Suan Kaew
and if your taking a taxi here it is in
Bang Kruai Sai Noi
, near the big round about on Nakorn In Road and Ratchapruk, about 20 minutes or so from KSR. I am working on a post about cool things to do in the
super
cool suburb of Nonthaburi (I know you are all looking forward to that...) and this is one of the things I was going to include. In the end, I decided it was SO super duper cool that it needed its own post, there were so many photogenic opportunities! The temple was
badly flooded
late last year but is finally back to life again!
It is a temple with beautiful grounds sprawling over a good sized area. There are several antique shops with the real finds, old Thai chairs and nick-nacks, bizarre old electronics and some cool old toys. There are some really beautiful Siamese pieces that might cost you a bit more but are probably priceless!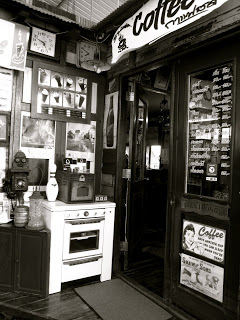 Coffee and antiquing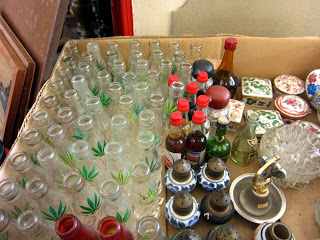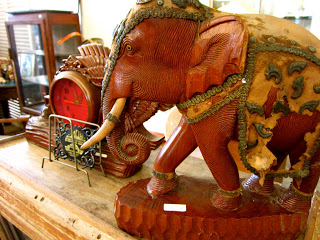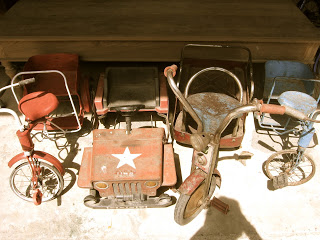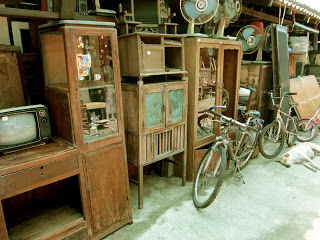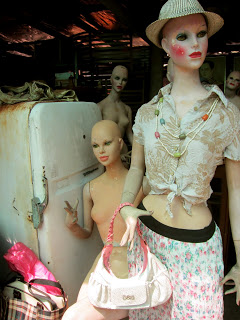 So much random shit!
Walk down a little further and you will come to a courtyard with some restarants and more random shops selling random things - old toilets, hospital beds, homewares and such. Then you will stumble on this this multilevel building decorated with falling off colorful tiles. Inside there are used household appliances, old clothes in piles for 20 baht, some old computers for sale (very cool idea, they were very cheap so even poorer families could afford them and they still worked well), and some other random China-made crap. It is a fun place to walk around in but unless your in the market for a used refrigerator, you might not find what your looking for here.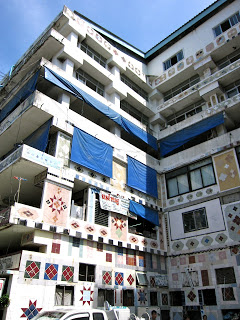 Inside this main building you can buy computers for about 100 dollars, various tools and appliances and dig through piles of old clothes if you so desire.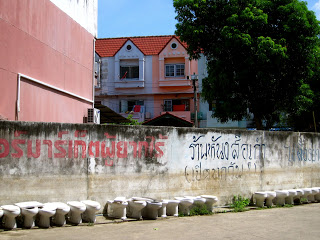 Need a new/used toilet?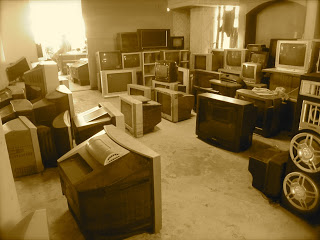 Where old TV's go to die.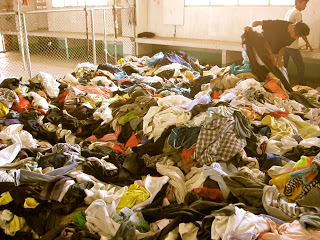 kinda like Goodwill....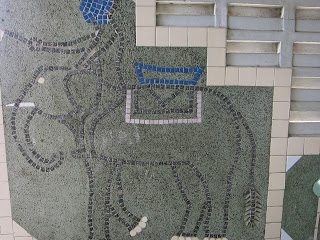 The walls are beautifully adorned!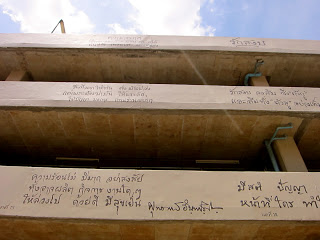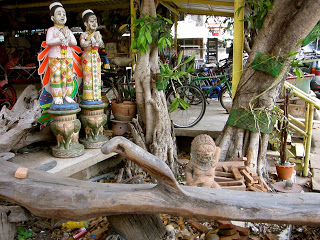 If you have an extra day in Bangkok and enjoy seeing things not in your Lonely Planet guide, check out Wat Suan Kaew and have a lovely day out in the 'burbs!