I've been a little off the grid the past couple weeks, my new school where I have only worked for two weeks has flooded, as well as my house and the area I live in,
Nonthaburi
. With the floods only getting worse in Thailand and threatening the capitol, it is anyone's guess when the water will recede and we can go back "home" and try to start again.
I have never in my life had so much time, with literally nothing to do with it. I have been on holiday for about 3 months now, and while everyone thinks that sounds amazing, I am really getting a bit tired of it. There really is no place like home and even though I don't actually have one right now, I would really like to get that show on the road! Living out of a bag can wear on a gal.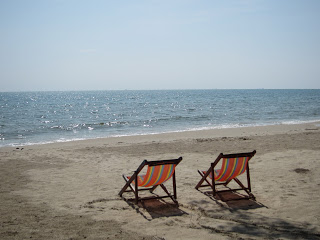 With the flooding crisis in my new land of residence, I am getting a little time to explore the beauty of this culture and country, thankfully as I am not so impressed with the suburbs... About 3 hours from the bustle (and bubble, heh, too soon?) of Bangkok, we found a little slice of paradise where you can forget any real life and just be. A tiny island off the coast, Koh Samed, many local Thai's vacation spot as well as some expats and other travelers where white, sandy beaches, seven (yes, 7) dollar massages and rum buckets abound! Google maps barely registers this island, but it is alive and well, and best of all water free (except for the clear, turquoise ocean of course!)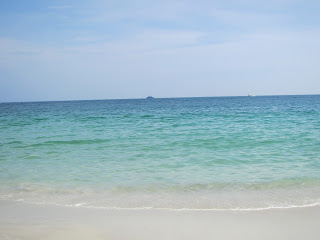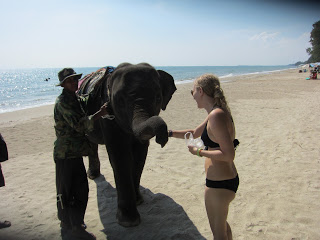 I got to hang out with this little guy!
Our next course of action, included new friends and a tiny beach town with gorgeous views, a few good bars and discovery of real Thailand, a small place named Leam Mae Phim. A drunken night with some people on Samed turned into a week long stay here, with some really great new friends, awesome memories and a promise of more to come. For the sake of this place staying quiet and charming, I can say no more!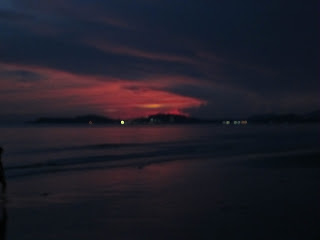 For now, after a night in the Jr.Suite (the last room in town) and a belly full of Sizzler (they have them everywhere here, its weird but delicious!) we are heading out yet again, as the populations just south of the city have swollen greatly in the past few days, to see southern Thailand and its spectacular wonders. Not sure when I will be able to go back to school and find a place to live, I must take one day at a time, practice patience and enjoy every moment of this early vacation, I live in one of the most beautiful places on earth after all, how could I not?
While we are very lucky to be able to escape the floods, I have been following the situation closely and think about those who are not so lucky often. The reaction from the Thai people has been inspiring and real, making me fall in love with this place and it's people. Praying to whoever will listen, to keep Thailand safe, and give relief soon... Be well xoxo