I've been very lazy lately, I had meant to blog more often, since we are traveling so slowly and I have the time. Yet I find myself always finding something else to do! From laying on the beach, to walking through a street market and stopping at several vendors for some snacks (fried bananas, YUM!), or learning about the history of the country I am falling in love with. Talking with everyone, tuk tuk drivers and children, makes you think about what's fair in the world and sometimes question God, and that takes a lot of time! After riding go karts or spending our day at a museum that was once a school then turned into a Khmer Rouge prison and torture house for four years, we can finish off our night with dinner, where we share our meal with a 6 year old boy with holes in his clothes, who eats every grain of rice, even the vegetables he obviously didn't like. A perfect day seeing the real Cambodia, past and present, topped off with ice cream and cake with the little boy and another one of our favorite little girls who speaks very good English, a child's smile can really make my day!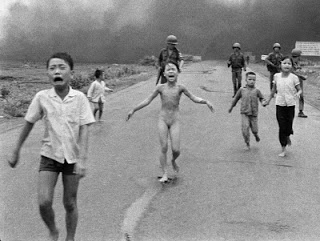 the picture seen around the world.
I have also been indulging in some reading on the long bus rides (and on the beach) trying to educate my American public school ass on the recent history of the places I am. While in Vietnam, I bought a copy of
The Girl in the Picture
from a boy on a bicycle, and I read it in 4 days on the beach, and the bus ride south, learning much more than I ever learned in a textbook,visiting the places I was reading about. The book gives factual information about what went down during the Vietnam war and follows a girl and her family, who became famous and then exploited by the Communist regime in Vietnam after a photo is captured of the girl running naked down the street covered in napalm. It was an eye opening look into war and post war in the region, a side of the story I had never heard before. Visiting the war memorial in Saigon (Ho Chi Min City) I was ashamed while reading and seeing about all the horrible things Americans did in Vietnam, so much death and long lasting problems. I think this is a important book for everyone to read, as an American, we cannot forget something so close to our roots, it is a reminder of what we humans are capable of. .
Eating a "happy" pizza along the river in Phnom Penh, a small woman in a wheelchair, sold us a book called,
First they Killed my Father
, which was heart wrenching but extremely interesting to read. I barely remember hearing the names Pol Pot and Khmer Rouge before researching Cambodia in the recent months. 1/5 of the Cambodian population was wiped out in 4 years, only a little more than 30 years ago. There are not as many older people here as in other places, it is noticeable. The bodies of the innocent babies, women and elderly still lay in the fields just outside the city, aptly named the "Killing Fields." It is madness that this city full of life and culture was stripped of its people and arts such a short time ago, filled with only prisoners and Khmer military. I have learned so much about this part of the world and about myself on this trip, with constant ups and downs of traveling in a place with so much beautiful history and so much pain. It has made me so grateful for my life and while it so hard to see the sadness and hungry people in the streets knowing there is no way you can help them all, a warm smile and kindness is the best way to share peace.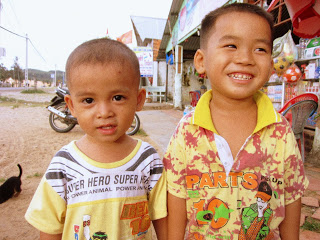 smiles :)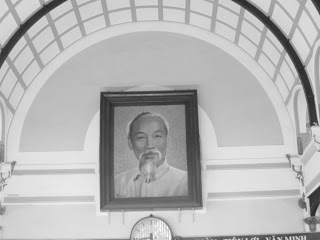 Uncle Ho at the post office, Saigon.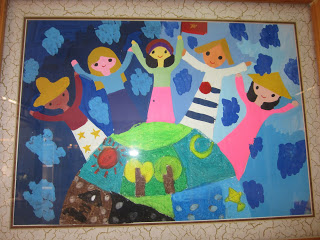 Artwork at the American War crimes museum
We will be in Phnom Penh for a few more days because I am a terrible planner and forgot to straighten out our visas for Thailand (this visa stuff is harder than it should be) so we are staying at a beautiful hotel on the edge of the Royal Palace grounds, with golden and earth red ancient roofs surrounding us as well as small food and clothing markets.
One of my favorite movies when I was young was the King and I, the blonde English teacher riding through the streets of Siam seemed like the ultimate adventure; now I hope to find a king who has kids that need a teacher, the starkly different culture sometimes feels unreal to me. Soon we will have to enter reality again (if you can call Bangkok reality, I mean) and job searching will commence. I don't want to rush into anything, you know how I am with commitment, but the job market is looking good for me. For now, I guess I will go find something else to distract me, maybe visit a temple with a resident elephant or another happy pizza. Maybe both...
Wishing happiness for my friends and loved ones all over ~