It's true what they say, tattoos are addictive and here's my number 3. I like to get a new one every place I live that is significant in my life and this one is extra special to me.
It says
아빠 or appa, which literally means dad and is how children in Korea affectionately address their father.
My dad was stationed in Korea and came here the day after my mom told him she was pregnant with me. Before he passed away 2 years ago, I had been planning on coming to Korea and my dad was so excited for me to see the world and experience this culture like he had many years ago. Because of this, I felt a strong connection and desire to come here and make him proud.
Obviously this was a important tattoo for me and I knew exactly what I wanted. I went to the artists at Tattoo Korea (Nonhyeon station, line 7, exit 5) and am so happy with the result. The owner is from California and therefore speaks great English and has everything for the shop imported. The artist listened to what I wanted and went to work, diligently drawing an evolving piece of artwork that ended up perfect and exactly the way I wanted to honor my dad. I am so happy I went to Tattoo Korea, which was recommended by a friend. They are professional, artistic, clean, friendly and highly sought after (the shop was packed all day!) The atmosphere was so comfortable, I even met some new friends and hung out while it poured outside. Plus when you get a tattoo you can get a piercing for free, gotta love spontaneous holes in your body... I was told it was the best place in Seoul to get a tattoo and I would most definitely agree!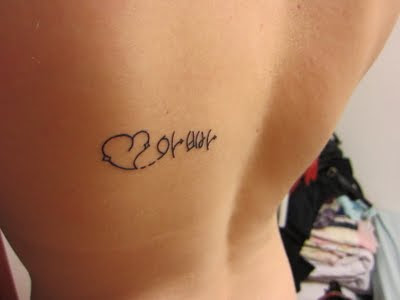 Love you papa
♥