I just made my students sing Deck the Halls for my own selfish reasons... So I could laugh as they sing fa lalalalalalala.
and it was hilarious. and i only feel a little bad about abusing my role as teacher for some prejudiced fun:)
I just can't get enough of these cute kids!
**** Today...
--My 2nd grade after school class has become extremely affectionate after I hugged a crying student to console him... they must have all noticed because now I constantly have 15 little kids trying to hug my leg and hold my hand. I could have a worse job... except for the sickness' they keep passing along!
--In another class (6th grade), two girls proceeded to show me their coldsores on their lips and exclaim, Teacha! Sicka! Wouldn't display those too proudly girls :)
--When I asked my 3rd graders, "Where does Santa live?" These were some of the responses:
Europe! In the sky. and my personal favorite... under my bed! hmm I wish :)
♥ Just another day in the life of a Korean English Teacha!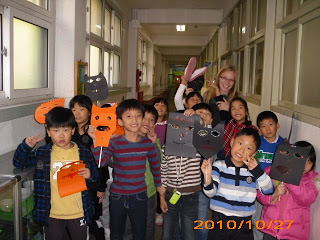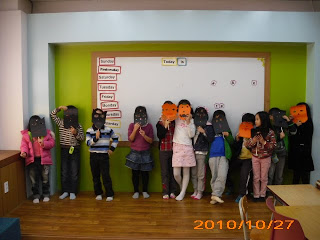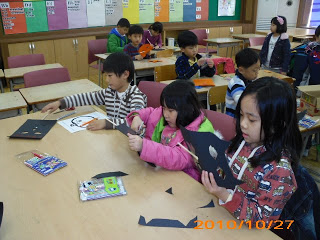 some of my students with their halloween masks!