When I first moved to Korea, I read countless blogs about what to bring when you move to South Korea... most of them were helpful but of course, we all have different needs and as Western influence drives further into the eastern hemisphere, things change rapidly. (Also, Thailand is quite different than Korea and has much more available so my list might be twice as long
if
I were going back to Korea.)
I will be going back to Asia indefinitely and am trying to figure out what changes need to happen in my life, so being prepared for the unexpected is my goal. I love clothes a little too much so most of these are admittedly ridiculous and not entirely necessary, America is a much better place to shop when your a western (sized) woman. Anyways, these are the things I have deemed
essential
enough to bring in my 100 kg on the long way back to Thailand.
Shoes - I am a shoe girl. I don't feel dressed unless I have the right shoe for the occasion, wth many times in Thailand that being no shoes at all. Last year when we escaped from the floods in Thailand, I left all my shoes on the floor of our first floor apartment and all my shoes were ruined. Since I am able to put that in perspective to how lucky we were to have only lost our shoes, I went out searching for new ones to replace them. Obviously. Not. My average size 9 shoe size (in America) is apparently above average in Thailand. Finding shoes anywhere there is a nightmare, size 40? No have. Unfortunately for my credit card, I have gone to so many stores with my size fully in stock lately and my shoe collection is no longer struggling, though SE is rough on all things that touch the ground. My number one tip for going to SE Asia: Bring Shoes, and hold on to them for dear life.
Underwear - I am neither a stripper nor a grandma, so it seems Thailand doesn't have much of a selection for regular girls like me. Sure, I can go to CentralWorld if I am in a pinch but I am a snob when it comes to panties (yup, I said it) and like the sweatpants all say, I ♥ Pink. The secret is that they offer international shipping but there is nothing like the feeling of putting your hands over hundreds of soft, brightly colored, perfectly placed panties with a bunch of other women. Stock up.
Deodorant - While I am a recent convert to spray deodorants, I still need a good invisible solid for those extra hot days (everyday) in Thailand. Nivea has some decent products in Asia but I really prefer Dove when it comes to smelling fresh and clean. It is also not cheap nor easy to find in Thailand, especially outside of Bangkok. Westerners sweat way more than Asians, fact. Don't know why but its true, we stink. You're gonna sweat a lot, be mindful of others!
Whitening toothpaste - The toothpaste sucks in Asia. It tastes funny, doesn't usually say anything in English and I have really been enjoying the whitening Crest here in America. I am bringing back 5 tubes. If you are gone long enough you will run out and I usually use the Colgate or whatever there but I have heard rumors of missing ingredients, yet I will never know. Dental care is cheap in Thailand but don't get stuck in the middle of nowhere with no toothpaste!
A huge bottle of ibuprofen - You can only buy this over the counter life saver (migranes, cramps, hangovers, it does it all!) in packs of 8 or so at pharmacies all over Thailand. That is fine when your in dire need but I take it for all my ailments (sorry, liver) and need it in higher dosages than 200 mg. I don't condone the use of so much chemical drugs but I am a really annoying sick person.
body spray - I love a good mist of body spray before I enter the world but finding cheap, good quality spray is difficult, even in Bangkok. I went to a Victorias secret sale and bought a couple bottles of lovely body spray for really cheap. (Why, WHY is that place not in Paragon? (edit: they do now have a VS body store in Siam but it is very expensive and quite small, I would still stock up.) It's nice to have a light mist of lavender on a sticky, smelly southbound bus.
jeans - Honestly I wear jeans almost never in Thailand, it is just too freaking hot, but jeans are still something everyone needs to have. I only have one or two good pairs right now so I need to go to Buffalo exchange to find some quality used ones before I go back. (But all I really want to buy is bathing suits!) We just don't have the same body type as Asian women and any hips can be hard to cover in Thai sized pants. I rock the elastic waist hard these days.
electronics - I wouldn't plan on most electronics being cheaper in Asia just cause it is made there. That is what I initially thought but things are generally cheaper on websites like Amazon or craigslist in America than they are in the markets and are far more reliable. I have heard many stories of people getting ripped off and some of good deals. It's hard to say really, just depends on where you go but I always buy my electronics from America. (Thats not living very locally is it? Shame.)
tampons - This isn't necessarily a needed one, they do have them here at most pharmacies, Boots, has so well priced ones. They are not commonly used by Asian women though so they can be tricky to find and are more expensive than back home. I usually buy a big cheap box and stick them around my suitcase since they take no room. Just know you might have to wear a diaper pad if times get tough. Ugh, I don't know how they do it every month!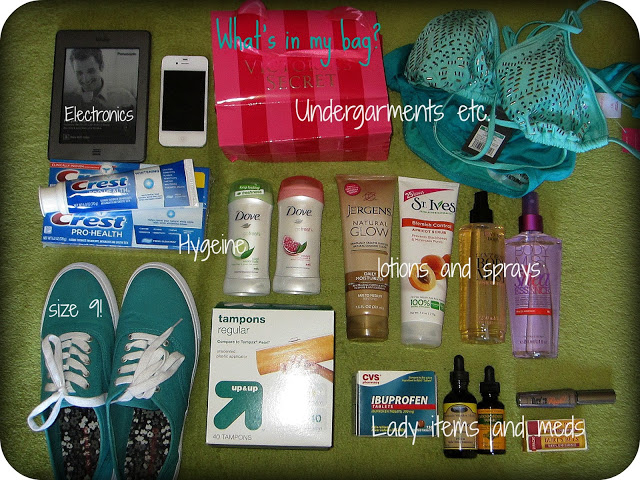 Any warm weather clothes. If you plan on traveling more extensively, bring a few light layering items but thick sweaters and coats are not need in SE Asia.
hair straighteners/curlers - its hot, humid and there is no point in making a fuss with your hair. Maybe just some extra ponytail elastics.
Most food items you can get in Thailand at Villa Market or other foreign food markets. Not worth it to fill your suitcase with your favorite candy bar, they probably have it there. You might have to pay a little more for it or you could just go without and try some of that weird stuff from the street.
People are people are people everywhere you go and for the most part we all have the same needs. The point of traveling is learning about new things, different ways of life. I try my best to just adapt and live with what I got but there are some things a girl just can't live without. (
Of course, tampons! They have them in Bangkok but they can be hard to find even there and especially outside of the tourist spots, try not to get stuck up the river without.)
I am headed back to to foreign lands shortly and need to figure out what I want to do with my life (no pressure) and I guess find a job, stop eating delicious meals all day and relaxing on the couch and get my shit together again. Holidays are always good while they last and it is weird to be heading back to my real life in Thailand. But here I go (well after one more weekend in Vegas of course.)
What things do you find necessary from home when moving to another country? Leave some of your ideas in the comments below
.
Please follow me on instagram and twitter and like One Day I'll fly away on Facebook! Thanks for your support!
{Disclaimer: I have been watching a lot of Netflix documentary's while writing this post and realize the disgusting consumerism of my/our ways. It is difficult not to want and consume in our current society and this is a greater issue than any decision on what to bring with you on a trip to Thailand. You should bring your open mind and bring back your experiences and this is really the only thing that actually matters, I am learning.}