อาหารไทยอร่อย = Thai food is delicious
(aroy mak!)
It is a well known fact, Thai food is one of the most celebrated and popular cuisines all over the world. I had no idea the complexity of Thai food, where is comes from, how its made and the language that it is intertwined with. Let me try to explain...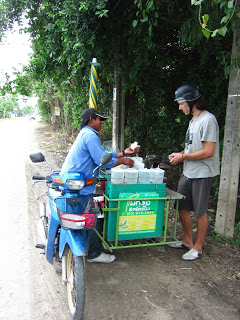 Street food is very common and there are even food stalls that come to you! You will never go hungry in Thailand.


khao - multiple meanings including rice and life
gai - chicken

moo - pork

tom - soup

pad - fried

stupid

= ting tong - haha just thought this was funny!



Now, some geography and history

Issan is what Thai people call the Northeastern part of Thailand. This is actually quite a large country and most of it is small villages and jungle. Each part of Thailand has a little different dialect as well a unique cuisine. People from the Isaan region are Thai with Laotian heritage (its all very complicated) and many have moved into the cities for more money and opportunity. I haven't been to this region yet, but even though it is not really on the tourist trail, I can't wait to travel and eat there!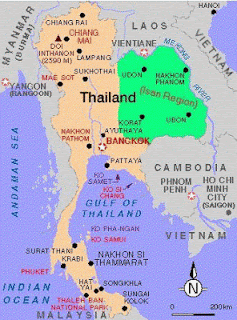 Anyways, in my opinion, and many others, Isaan food is the BEST kind of Thai food. It has such a distinct and unique flavor and is now very popular all over the country. Yet the flavors and smells that make up the streets in Thailand have influences from all over the country as well as Asia.


Finally, My top 5 favorite Thai dishes.

Khao man gai - Hainanese Chicken rice
This dish is a staple in my diet. Basically plain chicken, with rice cooked in chicken juice and on the side (my favorite part) a peppery clear soup with all the innards of the chicken marinating it to perfection. Don't forget to add the amazing brown spicy sauce that comes standard when ordering. Look for the street stalls with several chickens advertising in the glass case... its a must try!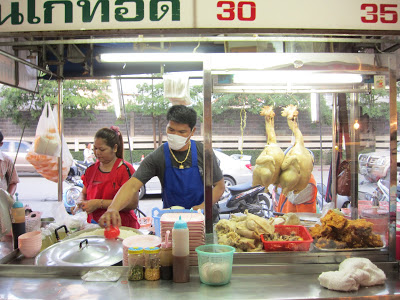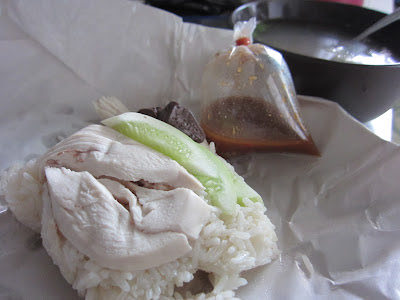 The spicy sauce that comes with this dish is to die for!


Khao Soi (Chiang Mai)
This amazing dish can be hard to find here in Bangkok but of course I crave it the most! Flat noodles with an amazing, sweet and (nit noi = little bit) spicy curry soup. Comes with a chicken leg, crunchy noodles on top with lime, bean sprout, pickled cabbage and onion garnishes to add to your tasting. Seriously, it is making me hungry just talking about it.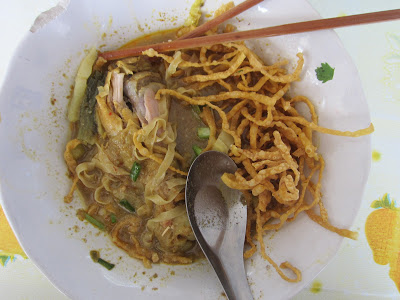 Som tum (Isaan)
- Spicy Papaya Salad with sticky rice. Perfect on a hot, sweaty Thai day. I ask for a little bit pet (spicy) because Thai spicy makes my face feel like its on fire. A little bag of khao neow (sticky rice) and grilled pork make this a crave worthy meal.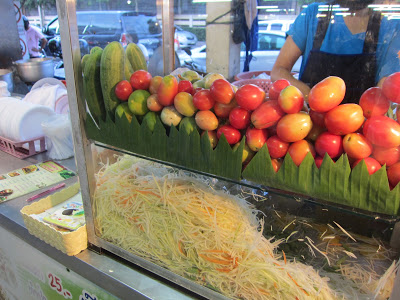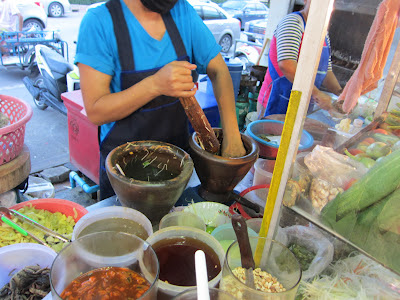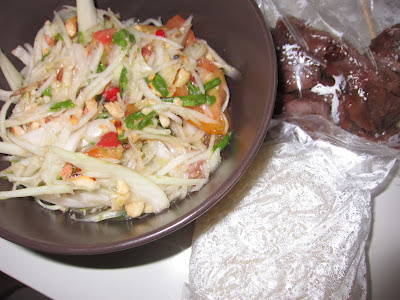 Tom Ka - My taste buds thank me every time I eat this soup, a sweet and spicy coconut soup with mushrooms, chicken, lemongrass, tomatoes and other spices. The flavor of this dish is beyond words. Yum, Yum, Yum.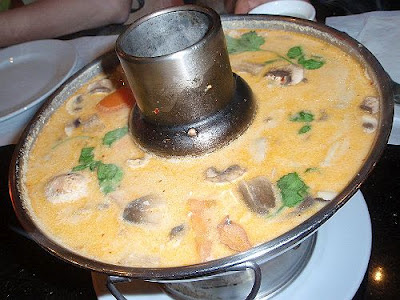 Sai Krok - Isaan fermented sausages with garlic. Comes with peppers, cabbage and ginger slices as a complementing garnish. I know they don't sound that appealing, but ugh, the sour flavor is mouthwatering. Just make sure you brush your teeth after one of these bad boys :)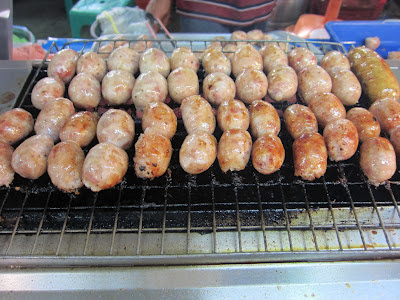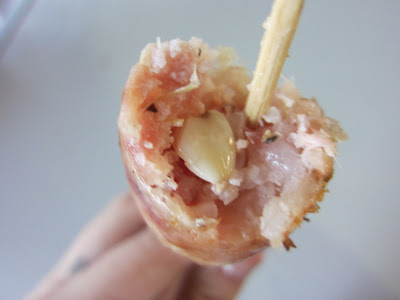 ya, thats a piece of garlic there. drool.

When people travel to Thailand, one of the main attractions is the delicious food. Of course, there are always the popular ones like pad thai and Tom Yum which are also yummy but keep an eye out for these real Thai foods, you will not be disappointed!
Enjoy!