A few weeks ago I tried something that changed my life. Really, I am not being dramatic, me and my skin will never be the same. My friend and I went to a Jjimjilbang - bathhouse/saunas that are open 24 hours and are very popular in Korea. There are separate bathing areas for men and women and then a common area with hot rooms to relax in together. In the bathhouse, everyone is naked and lounging in big tubs with varying temperatures and cleaning each other with buckets and soap. A very bizarre experience but a must do while in Seoul.
Honestly my worst nightmare is being naked and having everyone stare at me, (haven't you had that dream where you are on stage naked) and this is basically what happened when I went. Blonde foreigner naked!? "I wonder if she has the same stuff as me?" (I imagined this is what they were thinking as I watched their eyes explore my vulnerable bits.) Of course, this was intimidating at first, but you get over the initial shock of being naked in front of hundreds of other people and they realize that yes, I do have the same stuff as them. After a while I was strutting around like I owned the place, dreading putting all my winter layers back on. This new found exhilaration of public nudity did not change my life but was pretty fun nonetheless.
I went to Dragon Hill Spa in Yongsan - check out thier website
Dragon Hill Spa
for some good articles or check out lonely planet for directions and a map
Lonely Planet
- and I recommend it for any first time 찜질방 experience. They speak great English, have tons to keep you happy for hours, have a great Korean restaurant and are very foreigner friendly.
While at the Dragon, I opted for the GOLD package, which included a hour massage, scrub, facial and some Oriental steam treatment. Everything was very good, the naked adjuma came in, put on her uniform of black lacy panty and bra and got to work on my tired body. I was completely naked on a table spread out for the world to see and she got right to work. She was not shy and Eric might have been a bit jealous to see the places she put her hands...
In the western world, I have used a loofah daily in the shower like a good girl should but this Korean scrub was like nothing a puffy ball could do. They have a large towel that was a little like a brillo pad. She scrubbed it hard over my body and it hurt a little bit. She and the other girls got quite a kick out of how much dead skin was sloughed off during this American girls first scrub. I'm surprised that I had skin left on my body when she finished. My skin felt like new. Like I had been reborn and was fresh to the world. It was the best feeling and my life has not been the same since. I spent a small fortune on scrub materials for my own bathing experience at home (less naked Korean people there) and am hooked. I want to spread the gift of scrubs to all the world! Maybe I am just behind the times or possibly kinda weird and gross for never having doing this before but regardless, I can barely remember my pre-scrub life.
Now my skin is ready for anything, most importantly some sand and sun as I leave in
two days
to a little piece of heaven in SE Asia. I see mangos, hammocks and lots of rum in my future and I can't imagine life gets any better than that!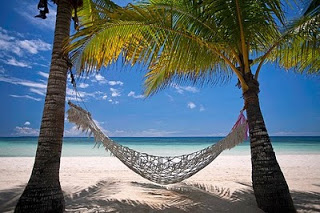 ~ Ciao friends ~