Monday's are no fun for anybody, no matter what part of the world you are in or if my Monday happens before everyone else. They still suck. Today is no different and while I should be planning for the coming weeks of lessons, instead I am beach dreaming and wedding planning. I have 3 more weeks of this term and then have 2 weeks of glorious paid vacation!
I wanted to travel to Laos and Siem Reap and see as much as I can while I live here, holiday time should be relished! Yet I have worked SO much in the last 6 months that I could think of nothing I would rather do than park myself on a beach somewhere and watch the weeks drift by slowly. It does sadden me not to be traveling this August, but I know that being busy traveling would be too much right now. I need a break. I am meant to have sand in my toes, and a drink in my hand! And I can't wait.
We are also having our wedding on Hadd Yuan, Koh Phangan in those two weeks and while it will not be stressful at all, I want dedicated time to perfect my beach bum skills. Just the two of us will marry and send our promises up to the gods on a private beach, in my dream dress. Bliss.
Lots to do in the next few weeks: shopping, bachelorette party, final fitting of my dress, writing my vows, a day at the spa, 2 jobs, and everything in between! It is all so exciting and knowing I have 14 days of doing nothing at the end of it all makes it so much better...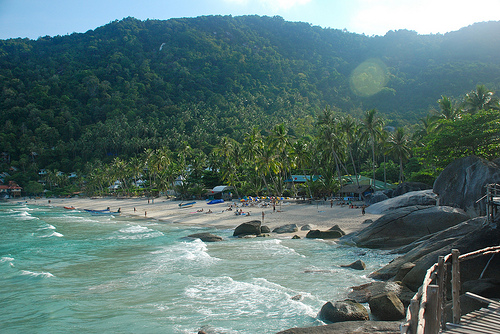 soon, so so soon.