For Eric's last weekend I planned all sorts of "romantic" things to do, Koreans are really into that, couples doing certain things that are considered "couple-y" and I figure when in Korea...
Being a little strapped on cash this month (trying to save for our travels and paying off my eye surgery finally!) we made it a fun weekend on a budget, which included the Seoul Zoo at Seoul Grand Park, lunch in Chuncheon for the famous Dalk Galbi, and ziplining to Nami Island.
I am big animal lover (only serial killer's aren't in my opinion) and think zoo's are a tad sad, those poor animals taken from their home and caged against their will, its just not fair. People can be so cruel. But I love them so any chance to see some monkey's, I am there. Seoul Grand Park is the home to the zoo and Seoul Land plus lots of land for lakes, picnicking and bike riding. It is close to my home and I am looking forward to spending more sunny afternoons there this summer. The zoo is okay, a little upsetting for me at times but pretty and most of the animals seemed to be treated well. I was concerned that many of the people were feeding chips and such to the animals which is terrible for them and depressing to watch them beg for. Also the lions were on a grassy field with about 20 males all growling loudly and fighting with each other. The Korean's love their drama so it was a hit, but I had to walk away. It is unnatural for so many males should not be living in close quarters like that and I think they were going mad. Regardless, it is only 3,000 krw to get in and we mostly enjoyed our day watching and playing with the animals.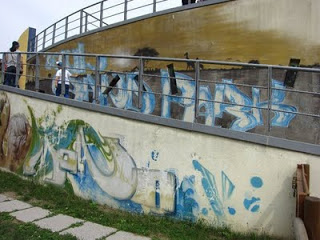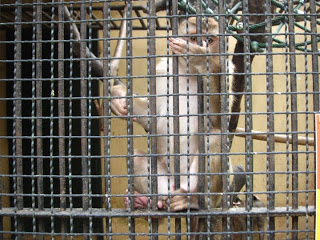 The next morning we woke up early (we were out the door by 9 am which was both shocking and difficult on a Sunday) and took the subway to Chuncheon, a city in Gangwon, northeast of Seoul. It is a city known as the home of Dalk Galbi, a delicious spicy chicken dish, and our favorite Korean food. We took the subway all the way there (about 1.5 hours on the Jungang line from Sangbong to Chuncheon) and landed at the Chuncheon station ready for a feast! The tourist information booth right outside the station has great English speaking, helpful people, including maps and guides in English, free of charge! They helped us figure out where to get the famous 닭갈비 and advised us to where Nami Island was (not at that station like I read online). We overindulged at one of the many restaurants offering the specialty (literally there is a street called
Myeongdong Dalk Galbi street, the difficult part is picking one.)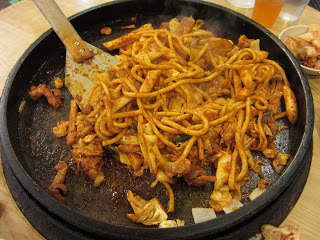 YUM!!
We watched the beautiful scenery from the train as we headed a few stops back towards Seoul, Gapyeong. A short cab ride to the port and we were at the entrance to the Republic of Namisaru (apparently it is not technically South Korea or something so they have this fake immigration area, it was very bizarre.) We chose to skip "immigration" and try the zip wire to Nami Island. It was a bit of a wait but the manager spoke great English and explained it was the longest zip wire in Asia at

3,083 feet long
and all the products were from a company in Utah. It was 38,000 krw and was a beautiful and unique way to get to an island, much more exciting than the ferry.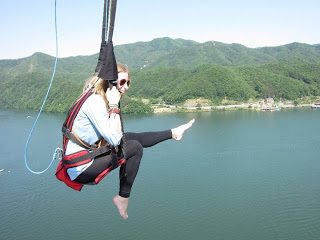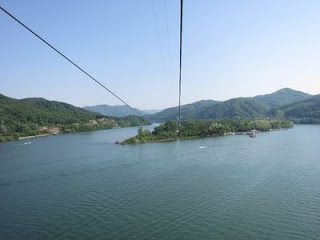 Once back on solid ground, we walked around to see all the sights and feel the "romance" we were promised. It was beautiful but very crowded and expensive. The line was so long to rent a bike that we gave up and took a nap next to the water instead, my dream of riding a double bicycle with Eric crushed :( We enjoyed a lovely, lazy afternoon of people watching, wandering, and being out of the city.
A day very welcome for this country girl at heart ♥
All in all, it was a romantic weekend, just like planned, and I think a great way to send Eric off from this breathtaking country.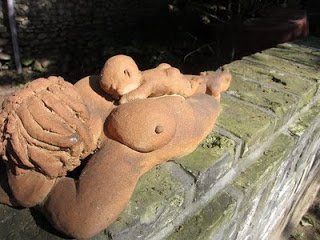 One of several mother/child naked statues on the island
Best matching shirts I have seen in Korea!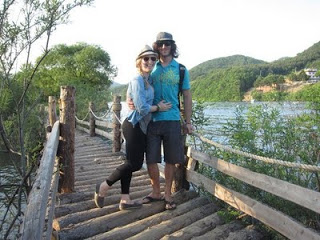 pure romance ♥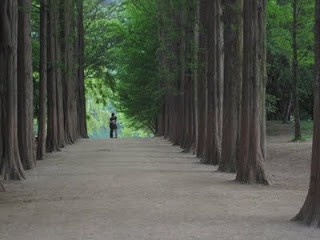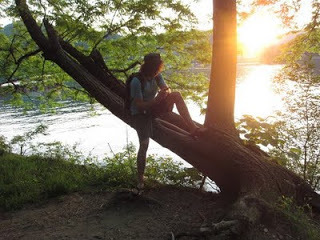 Sunset on Nami Island -
남이섬