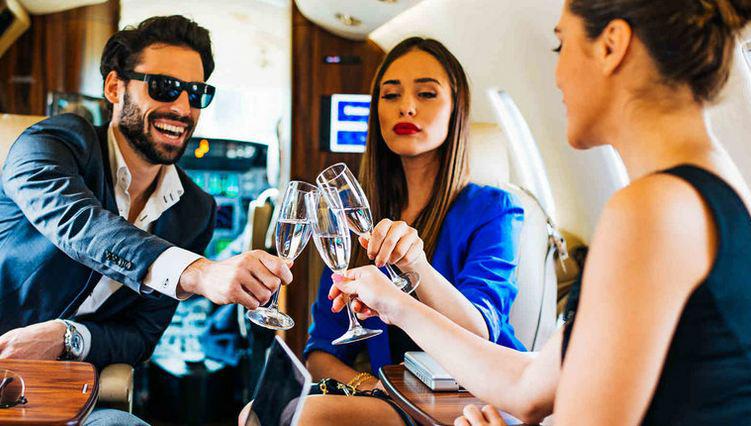 Whether you're traveling for leisure or business, a long flight always takes a toll on you. Spending hours on end cooped up in flight is a necessary evil. But not every flight has to be a nightmare. There are a few measures you can take to ensure a smoother commute when considering a flight.
Shut Out the Noise
Every flight comes with a unique set of passengers. There'll be a guy who snores or someone with a delightful baby who chooses the flight as the opportune moment to belt out a never-ending cry. Or perhaps you'll meet that person who loves to chit chat the whole way. Well, fret no more.
Earplugs offer a ready-made solution to help keep the noise at bay. Find yourself the best earplugs for the sake of peace. Look for a pair that's lightweight and soft for a comfortable fit that won't irritate or cause pain even after prolonged wearing. Also, look out for something that effectively seals your ears to keep the noise out.
Take a Nap
Even with an entire playlist to keep you company, a flight can get pretty dull. And what better way to pass the time than getting in a quick nap. But taking a nap on a plane can be quite a challenge, especially with all the light coming in.
For a sound napping experience, throw on a sleep mask. The ideal sleep mask should offer a snug fit and comfort, all while blocking out all light to get to dreamland faster. Look for a mask made from memory foam for that extra bit of comfort as well as something lightweight to reduce pressure on your face as you catch those Z's.
Do an early Check-in
Flights are time-sensitive affairs. Late check-ins only serve to stress you up because it means there's a high chance you'll miss your flight. So why risk it at all?
On the day of your flight leave for the airport in good time. It's recommended that you arrive at the airport at least two hours before a domestic flight and three hours before an international flight. Checking in early gives you the peace of mind and sets the tone for a comfortable journey. To get ahead of queuing at the airport, check-in online.
Wear Something Comfortable
Unless you're heading straight to a meeting once you land, a flight isn't exactly the right place to try and make a fashion statement. Besides, chances are people will be so caught up in their little worlds that they'll barely take note of your fashion choices.
When taking a long flight, dress in something breathable. Cotton-made clothing is the best bet since its breathable. Keep away from leathery, tight or itchy clothes. You could even carry an extra set of sweatpants or a t-shirt and get changed once you're on the plane.
Travel as Light as Possible
When packing, it's easy to get carried away and throw in some extra stuff you might not need. So before you set off on your journey, make a list of what's vital and what's not. Traveling light saves you valuable time and money.
Current trends indicate that people are traveling lighter, with smaller hand luggage suitcases. Airlines offer overhead lockers for you to place your valuables close by. Cramming your locker full of unnecessary bags means you'll inevitably have to place some of your bags down by your feet. That denies you the luxury of sufficient legroom making for one uncomfortable commute.
Choose the Perfect Seat
Not all seats on a flight are equal. Some offer a better flight experience based on your preference. If you're tall, then opt for an aisle seat or pick an emergency exit row for more legroom. To avoid the annoying interruptions of a front passenger reclining into your space, book a seat in the bulkhead row. A window seat is perfect if you're the one to take in the sights or perhaps if you want to snooze without the constant disturbance of other passengers moving in and out. If you're all about getting excellent service, then go for an aisle seat at the back of the plane. For a more comfortable ride, go for that seat that suits you.
Time to Binge
Maybe you've been craving to catch up on the last few seasons of your favorite sitcom. Or perhaps you want to start that new series that your best friend won't shut up about. Well, a flight is an ideal opportunity to do just that.
Before boarding, download a couple of seasons onto your device and binge on while the hours pass by. You'll be sure to kill the boredom that way. You could also pay something small to get access to the plane's inflight Wi-Fi so you can keep up with all that's happening on your social media handles.
Power Up
Modern-day smart devices have been revolutionary. With the tap of your screen, you get access to pretty much anything online. But they have an Achilles' heel, and that's their battery life. You'll be hard-pressed to find a device that could push you for a day on a single charge.
That's where a power bank comes in handy. Charge it up fully before your flight and you're set. You don't have to worry about your phone or tab dying in the middle of your favorite show. You'll probably want something with a 10,000 mAh rating, at least to last you the entirety of the flight.
Carry a Snack
Airline food does not have a good reputation in terms of its quality. There's also the fact that it can be quite pricey, and you end up feeling like you haven't gotten your money's worth. So, before boarding, carry something to soothe your tummy. You could pack a snack straight from home or grab something from the airport's departure lounge.
Traveling by air doesn't have to be a nightmare every single time you take to the skies. Try out a few of these handy tips and fly more comfortably.